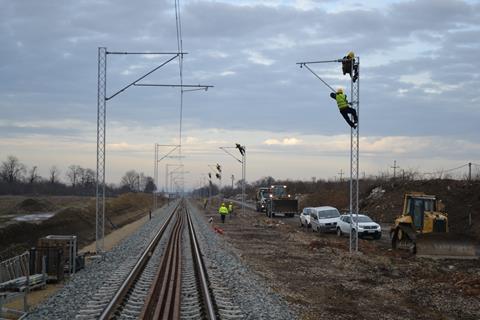 SERBIA: The Ministry of Construction, Transport & Infrastructure has called tenders for the supply of three 200 km/h electric trainsets for use on the Beograd - Novi Sad - Subotica route.
The trainsets are required to be around 100 m long with a minimum of 300 seats in two classes.
The first should be delivered to Serbia no later than October 31 this year, and the remaining two by the end of the year.
A memorandum of understanding for the potential procurement of 200 km/h electric trainsets was signed on January 6 by the Serbian government, national passenger operator Srbija Voz, Chinese rolling stock manufacturer CRRC and China Railway International.
An extensive modernisation and doubling of the Beograd – Novi Sad – Subotica line is underway. Chinese companies CRI and CCCC were awarded contracts for the 75 km Beograd – Stara Pazova and 108 km Novi Sad – Subotica sections, and while RZD International was appointed to modernise and realign the 40 km between Stara Pazova and Novi Sad.
The project forms part of the upgrading of the 370 km Beograd – Budapest line under a memorandum of understanding signed by China, Hungary and Serbia in December 2014.