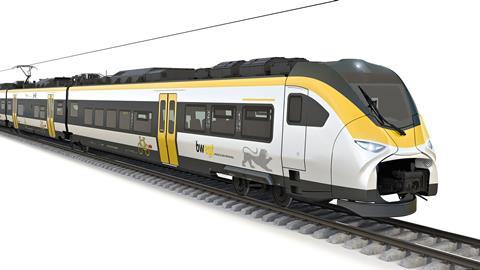 GERMANY: Siemens Mobility has been awarded a contract to supply electric multiple-units equipped for attended automated operation as part of the Digital Node Stuttgart pilot project within the Digital Schiene Deutschland (Digital Rail Germany) programme.
The €300m contract awarded by the Land of Baden-Württemberg's rolling stock agency SFBW and announced on August 10 covers the delivery of 28 three-car Mireo EMUs between November 2025 and April 2026, and the provision of 10 years of maintenance with an option for a further 20.
SFBW needs additional rolling stock because the Digital Node Stuttgart project will require existing vehicles to be taken out of service for retrofitting with onboard train control equipment able to support automation. Retrofitting the whole fleet is expected to take at least 10 years, and a high degree of flexibility is needed because of the uncertainties involved in the project.
Siemens Mobility said the order is the first it had received for the implementation of complete onboard equipment for the DSD programme. This will include ETCS and GoA2 attended Automated Train Operation according to the Control Command & Signalling TSI 2023, initially with system versions 2·0 and then 3·0. It will also supply a train integrity monitoring system. Siemens will also be equipping the trains to work with Future Railway Mobile Communications System technology as the emerging successor to GSM-R; this is a first in Germany, the supplier says.
The Mireo EMUs with 218 seats will initially operate in the Stuttgart conurbation as part of the pilot project, and subsequently throughout Baden-Württemberg and neighbouring Länder. Approval will also be obtained for operation in Austria and on cross-border routes to Switzerland.
Last year Alstom was awarded a €2·5bn contract to supply SFBW with 130 Coradia Stream High Capacity EMUs equipped for automatic operation.
'Baden-Württemberg is continuing to be a trailblazer in the digitisation of railways', said the head of the Land's Ministry of Transport Berthold Frieß when the latest order was announced. 'Siemens Mobility is now the second industrial partner for integrating complete DSD equipment in our trains. This will significantly accelerate the development of a fully digitised rail system in Germany.'