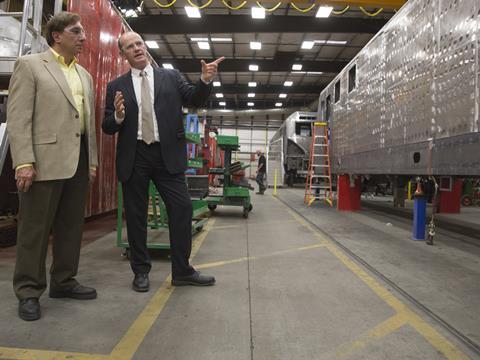 USA: Private passenger promoter All Aboard Florida has selected Siemens to supply trainsets for its proposed Miami – Orlando inter-city service using the Florida East Coast Railway, the two companies announced on September 11.
Siemens is to supply 200 km/h Charger diesel locomotives and 'modern single-level inter-city passenger cars'. These would be assembled Sacramento using components manufactured across the USA, making them fully compliant with Buy America requirements.
AAF plans to start operations with five trainsets, each formed of two diesel locomotives and four passenger coaches. These will operate between Miami, Fort Lauderdale and West Palm Beach at the southern end of the route, where services are expected to begin in 2016. The trains would be extended to seven coaches and five more trainsets ordered when the second phase is completed between West Palm Beach and Orlando International Airport.
The locomotives will have an enhanced carbody structure including crash energy management elements. They will be powered by Tier 4 compliant Cummins QSK95 diesel engines rated at 4 400 hp, with traction motors and gearboxes coming from the Siemens plant in Norwood, Ohio, and other propulsion equipment from Alpharetta, Georgia.
The first stainless steel passenger coaches to be manufactured by Siemens in the USA would be fully compliant with ADA accessibility requirements, and designed for level boarding without steps. They will be fitted with ergonomic seating and wi-fi, and will have accommodation for bicycles, prams and wheelchairs.
The trains are to be maintained and serviced at West Palm Beach and Orlando Airport, providing full-time employment for more than 120 people.
'We carefully chose Siemens technology knowing it will set a new industry standard, while providing the world-class amenities our customers will expect from our passenger service', said All Aboard Florida President & Chief Operating Officer Don Robinson.