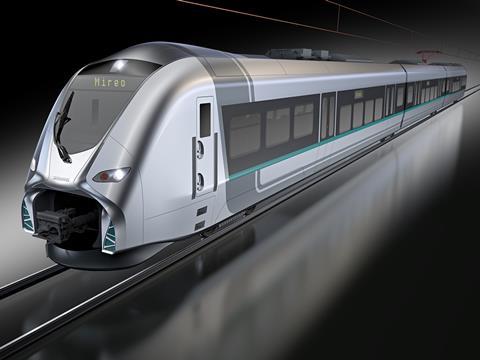 SIEMENS: Proposals for a new family of modular articulated electric multiple-units for commuter and regional services will be unveiled by Siemens at InnoTrans 2016.
The Mireo is intended as a successor to the Desiro Main Line family which has been supplied to SNCB (305 trainsets), Austrian Federal Railways (101), GySEV (5) and MittelrheinBahn (17). It is aimed at a similar market to the Stadler Flirt (1 200 sold), Alstom Coradia Continental, Bombardier Talent 2 (445) and CAF Civity.
Mireo EMUs would feature welded bodies formed from extruded aluminium profiles, with attention paid to aerodynamics. The driving cars would be 26 m long and intermediate cars 19 m long, with units of two to seven cars envisaged. Options would be available to suit platform heights of 960, 760 or 560 mm.
The bogies would be based on the inside-framed design used on the Desiro City, with the end bogies having a wheelbase of 2 200 mm and the intermediate bogies 2 600 mm. Wheel diameter would be 860 mm, with an axleload of up to 20 tonnes.
AC units would have one high-efficiency transformer-rectifier, with a roof-mounted 750 V DC link to the inverters. Both end bogies would be powered, with a varying number of intermediate bogies powered according to the operator's requirements. Siemens envisages three options: Eco giving an acceleration rate of 0·65 m/s², Midi with 1 m/s² and Speedy 1·2 m/s². The maximum speed would be 140 or 160 km/h.
Railway Gazette is the official international media partner for InnoTrans 2016, which will be held at the Messe Berlin exhibition centre from September 20 to 23 2016.