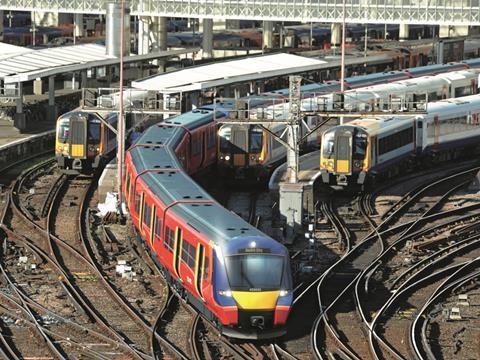 UK: South West Trains announced on September 3 that it had selected Siemens and leasing company Angel Trains for a £210m contract to supply 30 five-car electric multiple-units. The Desiro City EMUs would be 'similar in style to the Class 700 units being produced for the Thameslink route'.
Deliveries are scheduled to run from 2017 to early 2018. The 750 V DC third rail EMUs are to be operated in 10-car sets on the London Waterloo – Windsor route, allowing existing units to be redeployed to provide extra capacity on SWT's suburban network including routes into Waterloo from Reading, Basingstoke, Kingston, Epsom, Hampton Court and Guildford via Cobham.
The contract is subject to a 10-day regulatory standstill period before it is formally signed by Stagecoach South Western Trains, along with associated amendments to the operator's franchise with the Department for Transport. The new units will be maintained by South West Trains at Wimbledon depot.
The EMU order is part of a five-year plan to increase capacity developed by the South West Trains-Network Rail Alliance. 'As well as providing extra space for passengers using our services now, the combination of investment in the infrastructure and these new trains will create space at Waterloo that is the essential first step to allow an increase in capacity for our longer distance, mainline services', said Tim Shoveller, Chief Executive of the South West Trains-Network Rail Alliance. 'We will also continue to work with industry partners to develop options for the longer term.'
Associated infrastructure improvements include extending platforms 1-4 at Waterloo to accommodate 10-car trains, and reopening the remaining four former Eurostar platforms, along with track, signalling, power supply and depot enhancements.