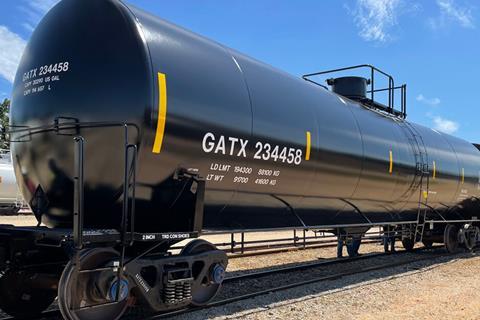 USA: Leasing company GATX has awarded Trinity Industries a contract to supply 15 000 wagons in 2023-28, with an option to order up to 500 more each year.
Trinity will deliver 1 200 tank wagons per year in 2024-28, while the remaining 9 000 wagons will be a mix of tank and other types which can be ordered at a rate of 1 500 per year in 2023-28 for delivery under a schedule to be determined.
'This agreement provides GATX with guaranteed access to high-quality, modern and cost-advantaged railcars in North America', said GATX Robert C Lyons on October 3. 'With our existing supply agreements scheduled to expire at the end of 2023, this is an opportune time to establish a new agreement.'
He said 'this order will cover our base fleet reinvestment needs in North America through 2028, and we will continue to pursue additional attractive investment opportunities in the new and secondary railcar markets'.
Trinity President & CEO Jean Savage said 'we continue to believe that our ability to provide railcars for shippers, railroads and other leasing companies gives us the broadest view into trends and dynamics in the industry and, ultimately, drives strong returns for our shareholders'.