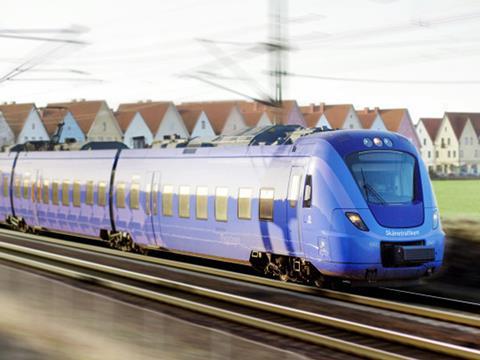 SWEDEN: Skåne regional transport authority Skånetrafiken announced a SKr1·5bn order for a further 25 Alstom Coradia Nordic electric multiple-units on February 5.
The 160 km/h four-car regional EMUs will be 74 m long with a total capacity of 510 passengers. They are to be assembled at Alstom's Salzgitter plant in Germany for delivery from April 2017.
Alstom has supplied a total of 277 Coradia Nordic regional trains to local transport authorities in Sweden since 2002. This includes 69 for Skånetrafiken, which now has 30 on order including five which were ordered in 2014.
The Coradia Nordic 'suits the travellers of Skåne perfectly' with 'a high level of performance and passenger comfort and an attractive design', according to Magnus Andersson, Train Manager at Skånetrafiken. 'With the new trains we are preparing for future expansion in the railway network and number of travellers.'
Skånetrafiken has extended Arriva's contract to operate Pågatåg services, which will now run for a further two years from December 2016. The steady growth in ridership in recent years is predicted to continue at 5% to 6% per year.