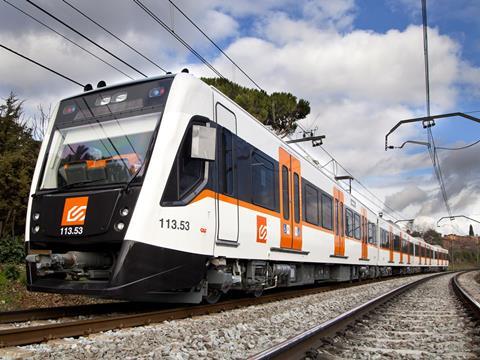 SPAIN: The first three of 24 electric multiple-units that FGC has ordered for its 1 435 mm gauge Vallès network at a cost of €151m entered service on the routes from Barcelona Plaça Catalunya to Terrassa and Sabadell on January 27.
The order covers 19 four-car Class 113 EMUs and five three-car Class 114 trainsets for the branch to Avinguda Tibidabo, with production divided equally between the Alstom plant at Santa Perpètua de Mogoda and CAF in Zaragoza.
Reflecting FGC's Smart Train concept of 'intelligent' and sustainable network management, the new aluminium-bodied fleet features AC traction motors and is equipped for regenerative braking, enabling a large proportion of energy to be recovered. Flat-screen passenger information displays have been installed inside the cars, as well as CCTV enabling images to be transmitted to the control centre in real time.
The four-car Class 113 EMU is 80 m long and can accommodate a total of 780 passengers. Taking traction current at 1·5 kV DC, each trainset has six motor and two trailer bogies, rated at 2·7 MW and with a maximum speed of 90 km/h. Maximum laden weight is 200·34 tonnes, and the Class 113 accelerates from 0 to 40 km/h at a rate of 1·1 m/s2.