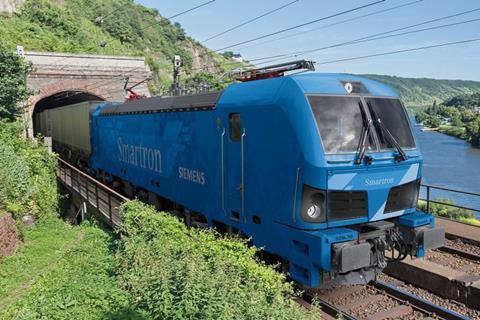 BULGARIA: National operator BDZ has signed a contract for Siemens Mobility to supply 10 Smartron electric locomotives between February and May 2021 for use on passenger services.
Siemens' local subsidiary Siemens Tron was sole bidder for the contract, although Bombardier Transportation, Stadler Rail and the Excelor-EL consortium had previously applied to prequalify.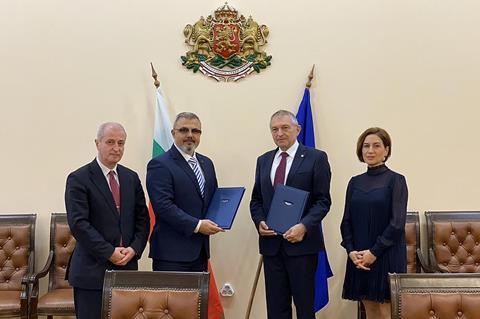 Following a review of Siemens' technical and financial proposals, the contract was formally signed on May 21 in the presence of Minister of Transport, IT & Communications Rosen Zhelyazkov.
The minister said this was BDZ's first order for new locomotives since 1986-87, and the first large investment in fleet renewal since Siemens supplied Desiro multiple-units in 2005-08.
BDZ's passenger division now had the opportunity to become a 'well functioning European-style' company with renewed rolling stock and a focus on providing good quality services, he believed.
Including technical support, staff training, consumables and spare parts for three years and 600 000 km, the contract is valued at worth 55·5m leva plus VAT. This is lower than BDZ's estimated budget of 57·5 leva.
Simple purchase process and fast delivery
Siemens Mobility developed the Smartron as a single-specification design to offer freight operators a lower purchase price and faster delivery than its configurable Vectron family; 13 customers have ordered the type since it was launched in early 2018.
The first orders were for 15 kV 16·7 Hz locomotives for Germany, with Bulgarian open access freight operators PIMK and Bulmarket and Romania's E-P Rail subsequently ordering 25 kV 50 Hz versions.
The 25 kV 50 Hz locomotives for BDZ will be delivered in the Smartron's standard Capri Blue livery, then branded locally to the operator's specifications.
'The Smartron locomotive offers our customers a powerful and reliable product that has been standardised to ensure a simple purchase process and fast delivery', said Siemens Mobility CEO Sabrina Soussan. 'With this order, BDZ is investing in a locomotive fleet that provides cost-effective service with high operational reliability.'