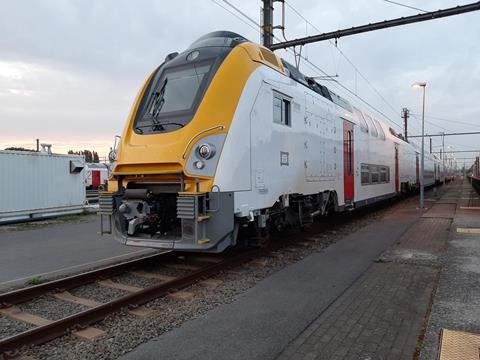 BELGIUM: Delivery of SNCB's double-deck Type M7 push-pull trainsets has been further delayed by the coronavirus, and will not be completed until March 2023, CEO Sophie Dutordoir has confirmed.
The state-owned passenger operator ordered 445 vehicles from a consortium of Bombardier and Alstom in December 2015 at a cost of €1·3bn, under a framework contract with options for up to 917 more. Similar to the existing M6 double-deck coaches, the M7s were intended to replace SNCB's ageing M4 stock as part of a fleet rationalisation programme.
The 200 km/h vehicles are being configured to operate as electric multiple-units or push-pull trainsets; the initial order included 90 Bmx driving motor cars to be assembled at Alstom's Valenciennes plant plus 65 BDx driving cars, 145 B second class and 145 AB first and second class intermediate cars being built by Bombardier Transportation in Brugge.
Deliveries had been scheduled to take place between September 2018 and 2021, but it was not until January 2020 that the first vehicles were ready for test running on the Brussels – Liège line. Dutordoir told a hearing of the parliamentary Mobility Commission on July 14 that the build was now running up to 18 months late.
SNCB had been expecting to take delivery of 113 coaches during 2020, including both powered and unpowered vehicles, she explained. However, the impact of the coronavirus, meant that 'this year the manufacturers will only deliver 48 coaches', which she hoped would be in traffic before the end of the year. Deliveries of the power cars and driving trailers will start in December 2020 and March 2021, and the remaining vehicles 'will be gradually deployed until March 2023', she predicted.