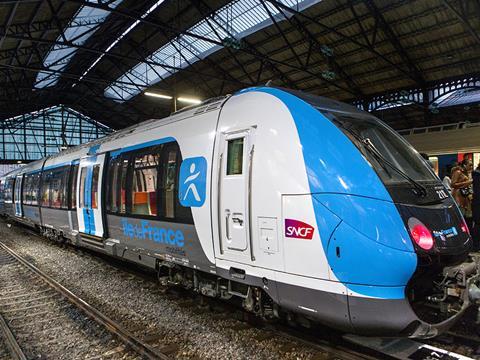 FRANCE: Bombardier Transportation is to supply further 36 Francilien high-capacity suburban electric multiple-units to SNCF, which has placed the €261m order announced on July 30 on behalf of Greater Paris transport authority Île-de-France Mobilités.
The firm order has been placed within a 2006 framework agreement covering up to 372 EMUs, of which 313 have now been ordered and 230 are in service.
The order comprises 18 seven-car EMUs for use on lines L and J from Paris Saint-Lazare, and 18 eight-car sets for Line P from Paris Est. They will feature upgrades including USB sockets, more ergonomic handrails and larger screens to increase the readability of passenger information.
'This train, specially designed to meet the challenges of the dense and congested Transilien network, has proven its strengths', said Laurent Bouyer, President of Bombardier Transport France. 'Fully adapted to this urban transportation ecosystem, it's the most reliable fleet operating on the network. The trains offer exceptional energy efficiency, optimised maintenance costs and of course a sleek design with amenities that are particularly appreciated by travellers.'