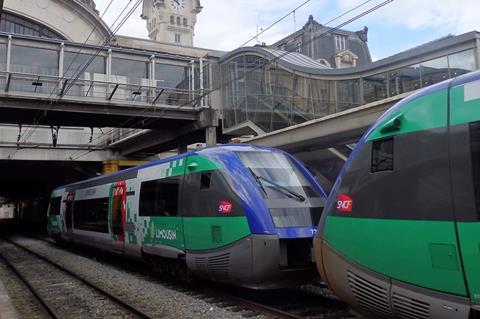 FRANCE: National operator SNCF has launched an ambitious programme designed to reduce the environmental impact of its TER regional services as a contribution towards combatting climate change. The PlaneTER programme is also intended to help win passengers back to rail and attract customers from new markets after the Covid-19 pandemic.
Announced on September 23 as part of European Sustainable Development Week, PlaneTER aims to reduce annual CO2 emissions from TER services by 100 000 tonnes by 2025, at the same time cutting passengers' carbon footprint by one-third and achieving a further 500 000 tonnes of carbon emissions by attracting people out of their cars. TER services are currently used by 1∙1 million passengers a day.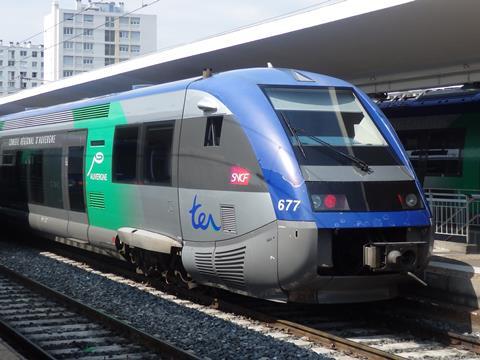 The programme includes switching to 'greener' forms of traction and the introduction of a range of measures across the board forming part of the 2021-25 strategic plan for the TER business. All 26 000 staff involved in TER services have been asked to contribute.
On the commercial front, special offers with low fares will be used to attract passengers. These will build on the TER de France promotion launched earlier this year which offered 2 million tickets at low prices. SNCF notes that half its TER clientele are young people, thanks in part to promotions such as the Pass Jeunes.
A key element of the programme will be to measure and publicise the environmental footprint of individual routes using a formula based on the amount of CO2 produced per passenger-km. At the moment SNCF calculates that TER services emit 24∙8 g of CO2 per passenger-km compared with 35∙2 g for long-distance coaches, 64∙3 g for a car shared by three passengers, 141 g for air travel and 193 g for a single person in a car.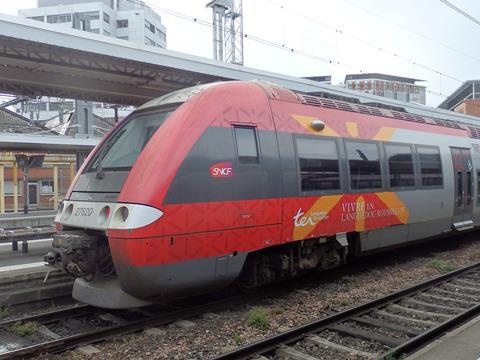 Measures planned include improvements in driving techniques to cut fuel consumption, which is expected to cut traction energy consumption by 7%. The time spent stationary with engines idling will be reduced, and heating will be adjusted to suit passenger loadings ― this already applies on Regiolis and Regio2N trainsets.
Revised practices are already in force with three pilot schemes: on the Tours – Chinon route in Centre-Val de Loire where trains are maintained at the Tours technicentre; on the Clermont – Brioude route (Aura technicentre in Lyon Vénissieux), and on the Nancy – Pont Saint Vincent line in Grand Est (Grand Est technicentre). The revised standards will be introduced throughout the TER network by 2025, reducing CO2 emissions by an estimated 48 000 tonnes.
Greater efforts will be made to ensure trains run to time, so keeping fuel consumption down by avoiding the need for rapid acceleration and braking to make up lost time. Timetables will also be examined to avoid trains running empty where possible. Energy consumption in offices, stations and other building will also be reviewed.
As battery power, hydrogen power and other new fuels such as biogas are developed, SNCF plans to cut the number of diesel-powered TER services, with the last diesel train due to be operated in 2035.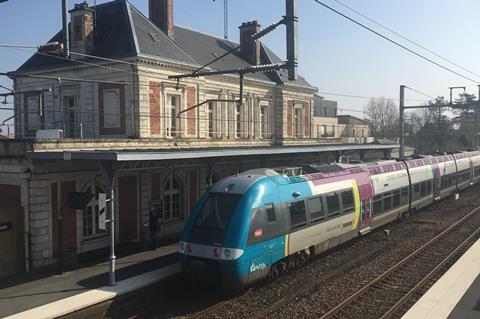 SNCF currently has 2 255 TER trainsets in service, of which 1 164 use electric traction. A further 495 are electro-diesel sets, with another 596 sets relying on diesel engines. Many sets are halfway through their life, but SNCF plans to refurbish its AGC fleet and TER2NNG EMUs in a programme lasting from 2022 to 2030. AGC sets are to have their diesel engines replaced by batteries or other forms of traction. Other modifications will include installing more efficient air-conditioning and real-time monitoring of energy consumption.
In a programme involving Alstom and the Auvergne-Rhône Alpes, Bourgogne-Franche-Comté, Grand Est and Occitanie regions, SNCF will introduce a fleet of 14 trains powered by hydrogen fuel cells, with the first entering service in 2023.
SNCF is also working with Alstom to develop a hybrid battery-diesel TER trainset for testing in Occitanie by early 2021, with deployment in commercial service during 2022. Half the diesel engines will be replaced by lithium batteries to store regenerative energy produced during braking.
In partnership with Bombardier, SNCF will convert a number of diesel sets to operate as battery-electric trains able to run under the wires, using lithium-ion batteries on non-electrified routes. Trials will start in 2022, with commercial service starting the following year. This project involves the regions of Auvergne-Rhône-Alpes, Hauts-de-France, Nouvelle-Aquitaine, Occitanie and Sud. Trains will be able to travel up to 80 km on battery power.
TER SNCF is also experimenting with a fuel derived from biomass; Régiolis trains are able to use this without modification and the first tests are expected in 2021. A biogas fuel called BioGNV is also being developed.