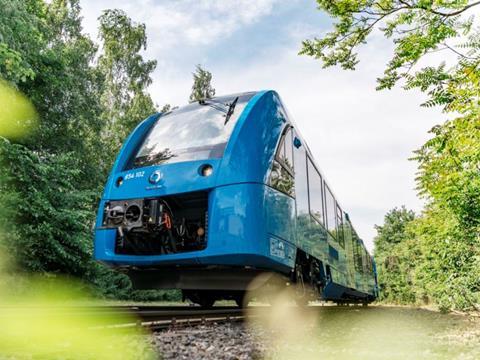 FRANCE: National operator SNCF expects to start testing hydrogen technology during 2021, and to run its first fuel cell powered train in the first quarter of the following year, according to Deputy Chief Executive Officer, Rail Systems & Technology, Pierre Izard.
Addressing a meeting of regional government representatives on December 5, Izard said SNCF was committed to a rapid deployment of fuel cell technology, and wanted work with those regions that wished to participate in the development of hydrogen technologies for the rail sector. 'Hydrogen has undeniable advantages', suggested SNCF's TER Director Frank Lacroix, adding that 'it is an alternative to the costly electrification of lines.'
SNCF President Guillaume Pepy has set a target of 2035 to end the use of diesel traction, and this is expected to have the greatest impact on regional services. At present, around half of all TER trainsets are diesel-engined, and a further 20% are electro-diesel bimodes. Fossil fuels account for almost half of SNCF's energy costs, although diesel only accounts for 25% of the total energy use.
SNCF expects to start work shortly on a feasibility study to develop a specification for fuel cell TER trainsets, and hopes to work closely with the régions on this. It has already put into place a steering committee, bringing together various stakeholders to oversee the project. This will also determine the phases necessary to firm up the scope and funding of the project, including the rolling stock specification.
According to SNCF, the TER hydrogen project must fit with national energy policies and strategies for the development of a 'hydrogen ecosystem', including the production, distribution and storage infrastructure. The study will also look at the potential to share hydrogen distribution and fuelling facilities with other transport modes and non-transport users such as public heating networks.
SNCF expects to contribute its scientific and technical expertise as both an operator and maintainer of rolling stock, while the regions have identified priority routes which could be worked by fuel cell trainsets.
'With the regions, we must determine the appropriate conditions for deploying new rolling stock which supports the energy transition', explained Lacroix. He envisaged that fuel cell trains would 'also contribute to improving the reliability of TER services, their competitiveness, and their attractiveness, in line with our CAP TER 2020 programme.'
SNCF pointed out that it was also developing a hybrid TER trainset, which would capture and store braking energy, and investigating the use of biofuels. It said its ambition was 'to master all these technologies and to characterise the relevant uses, which will no doubt be complementary in future'.