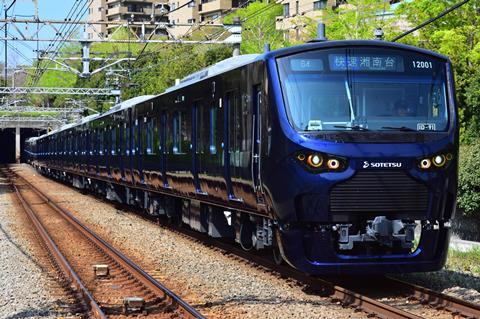 JAPAN: As part of its ¥15∙7bn capital investment plan for the 2021 financial year, Yokohama-based Sagami Railway is to order four eight-car Series 21000 EMUs from Hitachi.
The private sector Sotetsu operates a four-line 1 067 mm gauge network to the west of Yokohama, reporting a ridership of around 230 million passengers/year in the pre-pandemic period. The new units have been ordered to operate through services to central Tokyo following the opening of a connection to the Tokyu Railway network in the second half of 2022. They are expected to enter service by the end of the financial year.
Being built by JRTT under a public-private financing arrangement, the 2∙7 km Sotetsu Link inaugurated in November 2019 enabled through services to reach the Shinjuku hub in Tokyo, with Sotetsu's J-TREC built Series 12000 EMUs operating over JR East's tracks.
The 10 km Sotetsu Tokyu Link also being built by JRTT is due to open in mid-2022. This will run from a junction with the Sotetsu Link at Hazawa Yokohama-Kokudai to meet Tokyu's Toyoko lines at Hiyoshi, serving an interchange with the Tokaido Shinkansen at Shin-Yokohama and another intermediate station at Shin-Tsunashima. From Hiyoshi, Sotetsu's through services would continue to central Tokyo over Tokyu's Tokoko and Meguro lines.
The Series 21000s announced on April 28 will be a shorter version of the railway's seven Hitachi-built Series 20000 EMUs which were put in service between February 2018 and December 2020. Based on the manufacturer's A-train platform, these 10-car sets are formed of five motor cars and five trailers, and have a maximum speed of 120 km/h. The end cars are 20 470 mm long, the intermediate ones 20 000 mm long, all being 2 787 mm wide and 4 065 mm high above rail top.
Read more on the Sotetsu Link programme in the December 2019 issue of Railway Gazette International magazine.