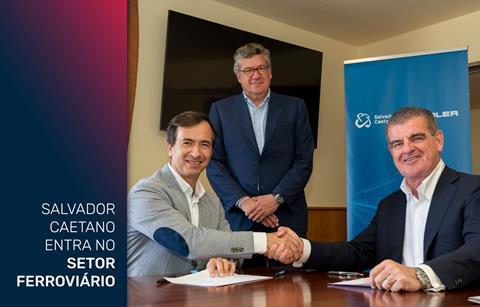 PORTUGAL: Stadler has signed an agreement with commercial vehicle supplier Salvador Caetano to develop a rolling stock assembly plant and a servicing hub in Portugal.
Salvador Caetano is one of the largest automotive suppliers, with a particular focus on road coach assembly and component manufacturing. In 2022 it recorded turnover of €2·9bn.
The rolling stock factory would be built at Ovar, south of Porto, where Caetano already has a plant in partnership with Toyota. The maintenance facility would be located to the north of the city at Guifões, where national operator CP has one of its largest workshops.
The partners hope to assemble between 150 and 200 vehicles per year at the factory, with production starting in 12 to 14 months. The development has been driven by a clause in CP's 2021 tender for 117 suburban and regional multiple-units; this mandated construction of a local assembly plant. These 117 trains would form the initial baseload for the factory, if Stadler wins the contract. Rival bidders are CAF and Alstom.
However, Stadler already has a contract from November 2020 to supply CP with 22 regional Flirt multiple-units, comprising 10 EMUs and 12 electro-diesel trains, plus staff training and maintenance services for a minimum of four years. It also has contracts from Metropolitano de Lisboa for 14 three-car metro trains awarded in May 2021, and from private freight operator Medway covering 16 Euro 6000 electric locos.
'This strategic agreement is a great opportunity for the group to contribute decisively to the renewal and requalification of the railway industry in Portugal, as sustainable mobility solutions are emerging', said Miguel Ramos, CEO of Salvador Caetano. 'This alliance with Stadler, one of the leading manufacturers in the railway sector, renowned for its quality and excellence, will allow us to expand our portfolio and exploit synergies to jointly develop solutions to today's challenges.'