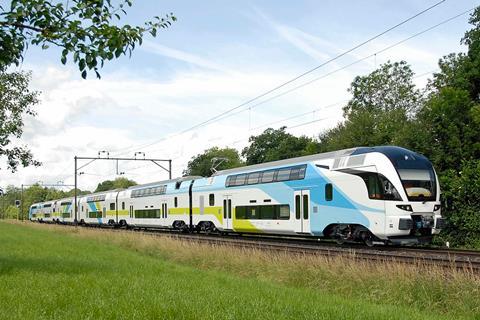 AUSTRIA: A contract for the supply and maintenance of a fleet of 15 six-car Kiss double-deck electric multiple-units was signed on October 29 by Stadler, Wien – Salzburg open access operator Westbahn and leasing company Austrian Train Finance. The order is worth just under €300m, with delivery scheduled for 2021.
China's CRRC had also bid for the contract. Stadler said it had won because it was able to offer a complete package including the supply of the rolling stock, the provision of full maintenance services to ensure high availability, and leasing 'at attractive markets conditions'. Austrian Train Finance is wholly-owned by Stadler Chairman Peter Spuhler's PCS Holding business.
'I am proud that we have been able to supply Westbahn with further state-of-the-art intercity double-decker trains', said Spuhler. 'At the same time, this contract will also enable us to further expand our service business. I am also pleased that we prevailed against the Chinese thanks to our attractive customer-specific overall package.'
This is the third contract for Kiss EMUs which Westbahn has placed with Stadler, following an initial seven ordered for the launch in 2011 and a second batch of 10 which entered service in 2017.
Stadler said the latest EMUs would be identical to the second batch. They will be 150 m long and 4 590 mm high, with a maximum speed of 200 km/h. Each air-conditioned set will have 526 seats, gender-separated toilets, a wheelchair accessible toilet, wi-fi and self-service vending machines.
Fleet replacement
The 15 new EMUs will replace Westbahn's 17 existing units, which are to be sold to Deutsche Bahn under an agreemnt announced in July. Westbahn said it had decided to sell its existing fleet because it needed fresh capital. Other operators were seeking modern high-capacity vehicles, and being a private operator Westbahn could order new trains under more favourable financial terms quickly and without needing to go through a cumbersome procurement regime.
As part of the sale, Stadler is to upgrade Westbahn's current EMUs to obtain approval for operation at 200 km/h in Germany. The nine four-car EMUs will be lengthened to six car sets to standardise the fleet.
An initial batch of nine EMUs is scheduled to be delivered to DB in December, for use on a new Dresden – Berlin – Rostock inter-city service from spring 2020. To free up the first sets for transfer, Westbahn will reduce its services from half-hourly to hourly from December, withdrawing its hourly service to Wien Hbf and Praterstern. The remaining eight sets would transfer to DB once Westbahn receives its replacement vehicles.