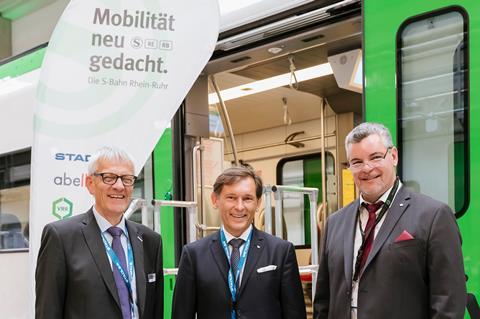 GERMANY: Rhein-Ruhr transport authority VRR and Stadler have officially opened a €35m depot on a former colliery site in Herne where the manufacturer will maintain 41 Flirt 3XL EMUs which Abellio Rail NRW will operate on S-Bahn Rhein-Ruhr services from December 15.
The 100 000 m² site inaugurated on November 13 includes a train washing plant and an underfloor wheel lathe. The 7 100 m² workshop has six tracks as well as storage and office space, and is designed to service up to seven EMUs per day.
'The workshop in Herne fulfils all the requirements for modern and future-oriented maintenance', said Jürg Gygax, head of the company's Service division.
The EMUs were ordered by VRR in 2016, in a contract which includes 32 years of maintenance. VRR said they would have more comfortable seats than the existing rolling stock, with most seats arranged in four-seat bays and featuring power sockets, free wi-fi, CCTV, toilets and 1 800 mm wide doors for rapid boarding.