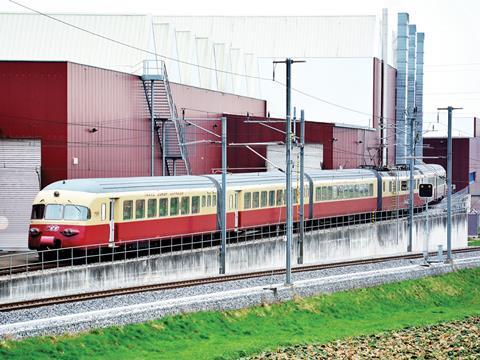 SWITZERLAND: Stadler Rail has replaced the wheel-slip protection and anti-slide devices and restored the multi-system capability of SBB Historic's preserved RAe TEE II 1035 six-car electric multiple-unit, enabling it to once again operate under 1·5 kV DC, 3 kV DC, 15 kV AC and 25 kV AC electrification.
Five RAe TEE II trainsets entered service from 1961, setting new standards for comfort and technology on Trans Europ Express services to destinations including Milano, Paris, Brussels and Amsterdam (RG 6.61 p726). After they were withdrawn in 1999 one set was taken over by SBB Historic and restored to its original condition.
The wheel-slip and anti-slide replacement was undertaken by Stadler at SBB Historic's Olten depot, before testing at Bussnang where Stadler has a test track with an overhead line which can be energised at all four different power systems.
Stadler said the project represented a further milestone for its growing service activities, which include long-term contracts for fleets in Switzerland, Germany, Hungary, Algeria, Austria, Norway, Italy, Poland, Sweden and the Netherlands. The company offers various services ranging from minor work by mobile teams to extensive repairs to accident damage.