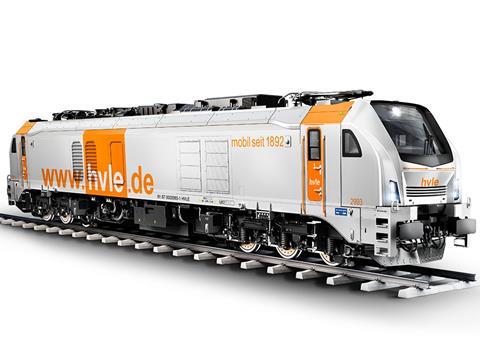 EUROPE: Stadler Valencia outlined plans for the development of its Eurodual family of electro-diesel locomotives at the Transport Logistic trade fair in München on May 10.
German freight operator HVLE is to be the launch customer for the Eurodual, having confirmed an order for 10 six-axle locomotives in March. Stadler has meanwhile been working on a prototype, which is now on its way to Romania ahead of dynamic running tests and type approval work in June and July.
Capable of hauling main line trains at up to 160 km/h in either diesel or electric mode, the Eurodual prototype is rated at 7 MW when under 25 kV 50 Hz electrification or 4 MW from a 1·5 kV DC supply. Its Stage IIIB-compliant Caterpillar C175-16 diesel engine is rated at 3 MW.
Stadler says the Eurodual offers operators flexibility from a single locomotive platform. For example, the diesel engine can serve as a 'power boost' to give a combined output of up to 9 MW, which the company believes would make it Europe's most powerful series-built locomotive.
The Eurodual can be ordered in varying configurations, Stadler says. These are designed to reflect the limitations faced in different markets, particularly regarding the robustness or extent of electrification. Some operators have approached the company asking for a variant where the diesel engine is the main power source and the electric module provides last mile power.
The Eurodual builds on the UKDual design built to the more restricted UK loading gauge and supplied to Direct Rail Services in 2016-17. All 10 Class 88 electro-diesels have now been accepted by the British freight operator, and the type made its first revenue-earning journey on May 9, hauling a luxury train from London to Carlisle and back in 25 kV 50 Hz mode.