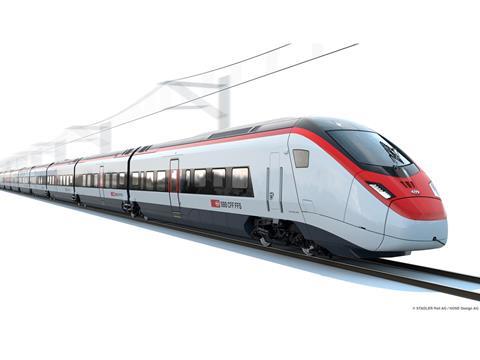 SWITZERLAND: Stadler Rail has beaten rival bidders Alstom and Talgo to win a SFr980m contract to supply 29 articulated high speed trains for international services through the Gotthard base tunnel.
Announcing the order on May 9, Swiss Federal Railways said that Stadler Rail was the clear winner with a definite lead in meeting the bid criteria.
Delivery of the 11-car EC250 trainsets with a maximum speed of 249 km/h is due to start in late 2019, three years after the base tunnel opens in December 2016. Designed to operate in Switzerland, Italy and Germany, the trainsets will be built at Stadler's Bussnang plant with bogies supplied from Winterthur.
The trainsets will displace ETR610 and ICN tilting trainsets on inter-city services via the Gotthard. They will initially operate from Basel and Zürich to Milano, but SBB envisages deploying them later on other international routes as it holds options for up to 92 more trains.
Each 200 m long set will include a dining car and accommodation for around 400 passengers. Low-floor entrance doors in the centre of each car will offer easy access for disabled, elderly and luggage-encumbered passengers. Two classes of accommodation will include quiet, family and business zones with power sockets at all seats. There will be separate male and female and two disabled-accessible toilets.
A 20-day standstill period applies before the contract comes into force.
Last month Railway Gazette International rode on a test train in the Gotthard base tunnel. Subscribers can read more in the May 2014 issue of the magazine.