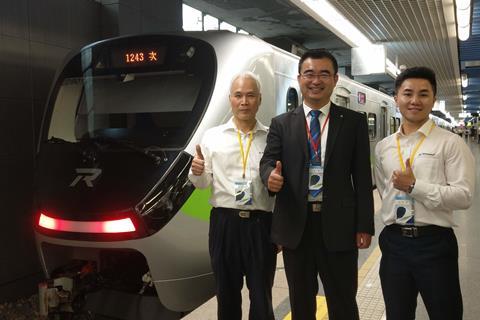 TAIWAN: National operator Taiwan Railway Administration has put into service the first of 52 Class 900 suburban EMUs ordered from Hyundai Rotem in June 2018 at a cost of 908·9bn won.
The 10-car trainsets for the 1 067 mm gauge national network are being assembled at the manufacturer's Changwon factory in Korea, with deliveries due to be completed in 2024.
Formed of five motor cars and five trailer vehicles, the units are designed to run at up to 130 km/h. They are the longest fixed-formation commuter EMUs to operate in Taiwan, increasing capacity by around 40% compared to the older sets they replace. The driving cabs at each end of the through-gangwayed units are fitted with an energy absorbing substructure to improve crashworthiness.
The interior configuration has been updated to reflect passenger feedback, with self-adjusting cabin lighting, an accessible area for passengers with reduced mobility, and expanded bicycle storage capacity. USB charging sockets are provided, along with an emergency wireless intercom for contacting the conductor. The higher seats were developed by a local manufacturer and shipped to South Korea for installation. Equipment for the toilet compartments including the 500 litre water tank and vacuum septic tank were also sourced locally.
Another accessibility feature is a so-called Pink Light Receiver, which allows pregnant women to use a special transmitter to trigger a reservation for a priority seat and remind a non-priority occupant to give it up.
The first units were delivered to Taiwan in October 2020 for testing, commissioning and trial operation before entering service. Safety and functional verification testing is being undertaken for TRA by TUV Rheinland Taiwan to ensure 'the optimal combination of reliability, safety, and operation & maintenance performance'.