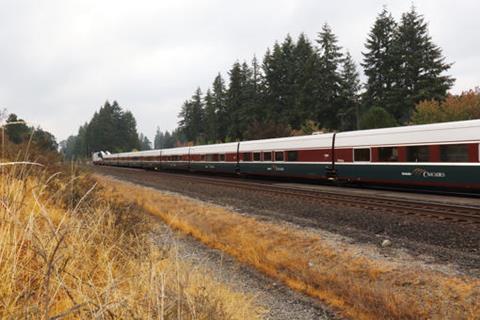 USA: Washington State Department of Transportation has withdrawn its 1998-built Talgo VI trainsets used to operate the Amtrak Cascades services between Eugene, Portland, Seattle and Vancouver, ahead of the procurement of replacement rolling stock.
Withdrawal of the Talgo VIs was recommended by the National Transportation Safety Board following the December 2017 Du Pont derailment in which several vehicles were destroyed. The cutting back of services during the coronavirus pandemic enabled the two remaining 12-car trainsets to be taken out of service in June, and these have now been put up for sale. The two Talgo Series 8 trainsets owned by Oregon Department of Transportation, which have improved crashworthiness, will continue to operate in the corridor.
WSDoT reported on July 14 that Amtrak had transferred some of its Horizon coaches to the route on an interim basis pending the procurement of new stock, and was evaluating other potential transfers to allow restoration of the full Cascades service.
In August 2019 WSDoT was awarded a $37·5m Federal-State Partnership for State of Good Repair grant by the Federal Railroad Administration to fund 50% of the cost of three new trainsets, with the remainder to be met from insurance proceeds and some state funds. It has already bought another Siemens Charger diesel locomotive to replace the one destroyed in the derailment, funded from Amtrak's insurance. This is now undergoing commissioning tests at Pueblo and is due to be delivered in September.
As with other state-supported routes, the Cascades service has been severely cut back during the Covid-19 pandemic, reflecting restrictions on non-essential travel. WSDoT said ridership was down more than 90% on the same time last year, with a comparable impact on revenue. At present Amtrak is only operating one train each way per day between Seattle, Portland and Eugene; there is no service north of Seattle due to the closure of the Canadian border. New safety and social distancing protocols have been put in place, with ticket sales limited to 50% of the nominal capacity. The authority said 'our ultimate goal is to return to a full schedule when it's safe and smart to do so'.
Reflecting long-term trends showing increasing demand for rail travel, WSDoT says it still intends to add two more daily trains each way between Portland and Seattle, offering earlier morning and later evening departures in each direction. However, no timescale has been set for this, as the extra services will be dependent on reopening of the Point Defiance Bypass between Tacoma and DuPont, a reduction in the coronavirus risk and resolution of the state's transportation budget issues. Meanwhile, WSDoT is working with Sound Transit, Amtrak, ODoT and FRA to reactivate the bypass route, which has been out of use since the derailment. Infrastructure owner Sound Transit is developing a new Rail Activation Plan including safety criteria, track testing and staff training protocols.