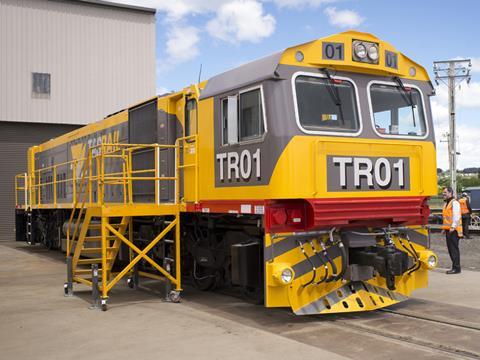 AUSTRALIA: The first two of 17 TR Class freight locomotives which Tasmanian state operator TasRail ordered from Progress Rail Services and Downer Rail in December 2011 have started acceptance and commissioning trials ahead of entry into revenue service. The next four locomotives are expected to arrive shortly.
Intended for use on 1 067 mm gauge branch lines with restricted axleloads and loading gauges, the Progress/Downer PR22L locomotive is based on the EMD GT26. It has a US Tier 3 compliant 1·7 MW Caterpillar 3512CHD engine, Kato AC generator and Zeit controls, with a traction rating of 1 492 kW and tractive effort of 272 kN.
Options are available with A1A-A1A or Co-Co wheel arrangements, axleloads of 17, 18 or 20 tonnes and maximum speeds of 80, 100 or 110 km/h. A standard gauge version is also offered.
Speaking at the official unveiling of the first locomotives at East Tamar Junction in December, TasRail CEO Damien White said they would provide significant efficiency gains, reducing fuel consumption and maintenance costs while increasing haulage capacity.
Reflecting public interest in the revitalisation of the state rail network, the locomotives will go on a 'Tour de Tassie' on February 8-10, with publicity events to be held at Burnie, Launceston and Hobart.