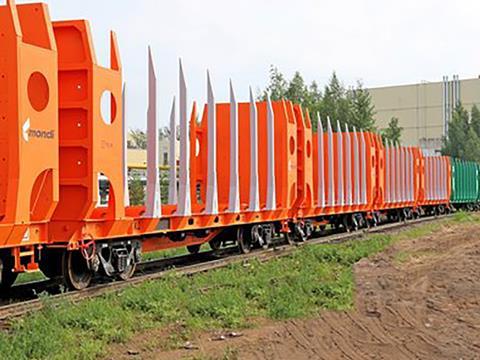 RUSSIA: United Wagon Co subsidiary TikhvinSpetsMash has won orders to supply a total of 548 high capacity timber wagons to six customers in the first quarter of 2018.
The orders have been placed by Lokotrans (330), DV Real Trans Group (50); Sibirsky Krai (50); cardboard packaging company ARKHBUM (55), packaging and paper supplier Mondi Group (43) and logging company VIK (20).
Designed by UWC's All-Union Research & Development Centre for Transportation Technology, the wagons have a 25 tonne axleload and offer a capacity of 74 tonnes or 122 m3. This allows a greater payload to be carried compared to older designs while remaining within the 14·6 m length limit. The wagons can also be used to carry packaged loads.
The end walls are made from a single piece of steel sheet with horizontal beams for external reinforcement, which both protects the cargo from deformation and stops it protruding. Apertures enable rapid inspection at customs points. The floor has been designed for easy cleaning, and to prevent cargo residues falling onto the track while having drainage holes to prevent the build-up of moisture.
The wagons are designed for a 40-year service life, with eight years or 800 000 km until the first overhaul, compared to three years or 210 000 km for older models.
DV Real Trans Group is working with UWC to plan wagons tailor-made to its requirements, with an order for 300 more wagons envisaged.