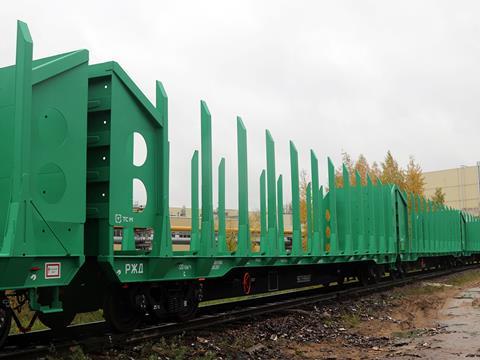 RUSSIA: UniCredit Leasing has awarded United Wagon Co subsidiary TikhvinSpetsMash a contract to supply 50 timber wagons for use by Luzales, one of the largest logging companies in the Komi Republic.
An initial 30 Type 13-6895 cars are to be delivered by the end of the third quarter of 2019, with 20 Type 13-6852-02 cars to follow in the first half of 2020.
Both types have 25 tonne axleload bogies. The Type 13-6895 has a capacity of 72·5 tonnes and loading length of 18·2 m, meaning it can carry a load up to 40% greater than older designs while remaining within a short wheelbase tariff. The 13-6852-02 has a loading length of 12·2 m and a capacity of 74 tonnes.
Both types are designed to significantly reduce the amount of unused space and protect the load from damage. The centre sill and side beams facilitate inspection and maintenance, and the floor is designed for easy cleaning of the platform and to prevent freight residues from falling onto the track.
'Our company is working hard to introduce state-of-the-art equipment and technologies into its production processes', said Luzales CEO Valentin Rozhok. 'Putting this innovative policy into action allows the company to be at the forefront of the industry in the Komi Republic. Without a doubt, the new fleet of UWC platforms will strengthen further our position in the market.'