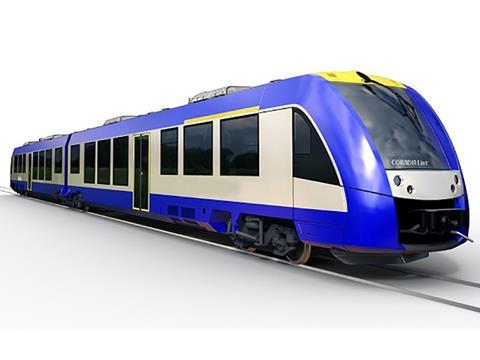 GERMANY: Transdev has placed a €115m order for 28 Alstom Coradia Lint diesel multiple-units which its Bayerische Regiobahn subsidiary is to use from December 2018 on Dieselnetz Augsburg I services from Augsburg to Landsberg and Füssen and from München to Füssen.
The order announced by Alstom on March 11 covers four Coradia Lint 54, five Coradia Lint 81 and 19 Coradia Lint 41 DMUs which are to be built at Salzgitter. These 140 km/h units will have capacities of between 225 and 485 passengers, a first class area, a multi-purpose area for wheelchairs, bicycles and prams, an accessible toilet, a 'large number' of luggage racks, a real-time passenger information system and CCTV.
Transdev GmbH management board Chairman Christian Schreyer said Coradia Lint DMUs had 'proven themselves with different Transdev businesses in the past', and the operator 'wanted to stick to the modern, passenger-friendly and reliable trains from Alstom'.