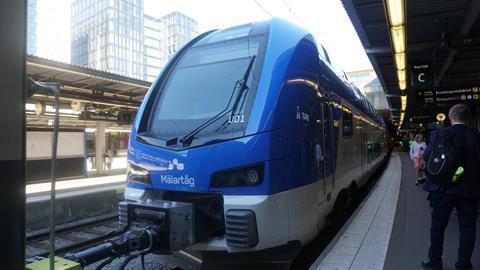 SWEDEN: Local authority owned rolling stock leasing company AB Transitio has awarded Stadler a SFr133·3m order to supply a further 12 four-car double-decker electric multiple-units for use on Mälartåg regional services west of Stockholm from autumn 2021.
The firm order announced on June 16 has been placed as the second option on a contract signed in 2016 which covered an initial 33 EMUs worth SKr3·5bn for Mälartåg services with options for up to 110 more. A firm order for eight units for Uppsala Länstrafik was announced in February 2018.
The 200 km/h aluminium bodied EMUs are designed to exploit the Swedish network's generous clearances. They incorporate winterisation features including enclosed equipment rooms, double-wall inter-car gangways, snow scrapers between the bogies and bodies, a heat recovery system, floor heating and high-quality insulation.
The design forms part of Stadler's Kiss family of double-deck EMUs, although that name is not used in Sweden.
'Just like the trains that have already been in passenger service since December 2019, the newly ordered vehicles will correspond to the Scandinavian design line developed jointly with Transitio', said Stadler's Head of Sales, Ansgar Brockmeyer. 'The fact that we have received a follow-up order from Transitio so soon after the new double-decker trains started passenger operations is a great vote of confidence.'