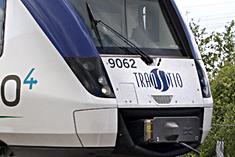 SWEDEN: Local authority owned rolling stock leasing company AB Transitio has announced its intention to procure 30 EMUs from CAF for use on regional services in southern Sweden, with an option for a further 34 sets.
The trains are due to be ordered within an existing contract; in 2014 AB Transitio pre-selected Bombardier, CAF and Stadler for seven-year framework agreements to supply regional trains, with firm orders to be called off as necessary to meet demand.
Valued at SKr6·5bn, the initial order is expected to be finalised by the end of March, following the expiry of the regulatory standstill period triggered by the publication of a voluntary ex ante OJEU transparency notice on March 18. This would see deliveries starting at the end of 2022.
The Civity Nordic units will be a winterised variant of CAF's standard Civity vehicle platform, designed for operation in temperatures ranging from -40ºC to +40ºC. The initial 30 sets are expected to be deployed by the regional transport authorities in Jönköping, Kalmar, Kronoberg and Blekinge.