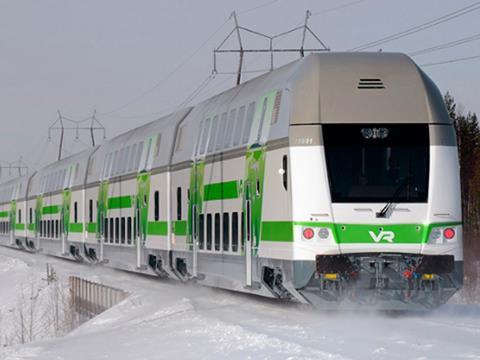 FINLAND: National operator VR has selected Transtech Oy as preferred bidder for a €90m contract to supply 27 double-deck coaches in 2016-17.
The order covers a further 10 Edm double-deck sleeping cars and 17 Edo driving cars, similar to vehicles that the Finnish rolling stock manufacturer has previously supplied to VR.
The sleeping cars will replace life-expired stock from the 1970s and 1980s on services to Kolari in the far north, and will have air-conditioning, power sockets, free wi-fi, and a toilet and shower in each compartment.
The order is the latest step in VR's €2bn programme to renew its locomotive and rolling stock fleet by the end of this decade.
The Transtech Oy push-pull driving cars for VR were described in detail by Dr Rolf Paradies, Engineer, Simulation & FEA, at Prose AG, in the March 2014 issue of Railway Gazette International. Magazine subscribers can read the article in the digital archive.