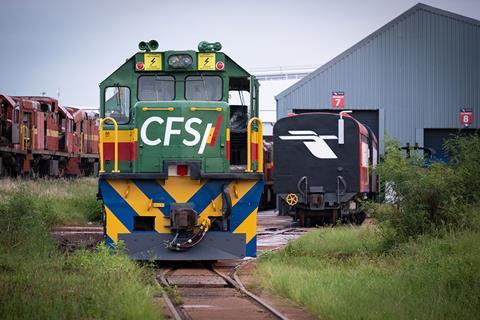 SENEGAL: Société des Nationale Chemins de Fer du Sénégal has awarded Traxtion Group a contract to supply five refurbished main line diesel locomotives and one shunting loco, in a two-year leasing deal which includes maintenance at the operator's workshop.
CFS was formed last year to manage the state's railway assets. The six locos will support the revival of the 1 287 km metre gauge line between Dakar and Bamako in Mali, which is being rehabilitated under a government-backed investment programme to support the mining sector.
R&H Rail acted as independent quality inspectors on behalf of the CFS team, who were unable to travel to South Africa to see the locos. A virtual handover ceremony was held.
'As a result of the pandemic and travel restrictions, R&H Rail acted on behalf of CFS to ensure that the refurbished rolling stock meets with contractual requirements', said Cor Botha, Director of Engineering at R&H Rail. Botha said the three 2 000 hp EMD GL26MC locos which are air and vacuum brake compatible were found to be in excellent condition. However, as they are 1 067 mm gauge, some inspections will only be completed once the locos reach Sénégal and are regauged.
The contract also includes driver training and skills transfer, which are 'critical components to ensure the continuation of our efforts to restore the railways', said CFS General Manager Kibily Touré. 'We are grateful to have this capacity building for our railways as part of the service agreement with Traxtion.'
The contract can be renewed, and Traxtion Group CEO James Holley said he was confident that CFS 'will see the value in our offering and continuing for the extended period'.