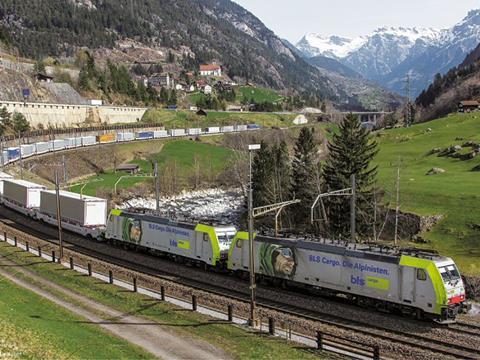 SWITZERLAND: Traxx locomotives which have been upgraded with the latest EBI Cab 2000 automatic train protection software are now approved for operation in the Gotthard Base Tunnel, Bombardier Transportation announced on November 28.
Authorisation has been obtained as a result of 'close co-operation' between federal transport agency BAV, infrastructure manager SBB Infra, operator BLS Cargo and supplier Bombardier.
The updated software enables Traxx MS and AC locomotives to run on all sections of the Gotthard Base Tunnel route, including those requiring use of ETCS Level 2. Locomotives which have not been retrofitted with the updated software can operate as the non-leading locomotive on double-headed trains.
'We thank the FOT, SBB Infra and BLS Cargo for the constructive teamwork that will enable our Traxx locomotives to operate reliably and efficiently in the Gotthard Base Tunnel', said Albert Bastius, Head of Product Line Locomotives. 'We are now continuing to see that the implementation of our latest software progresses well on the many locomotives in operation, so that our customers benefit from this updated version.'