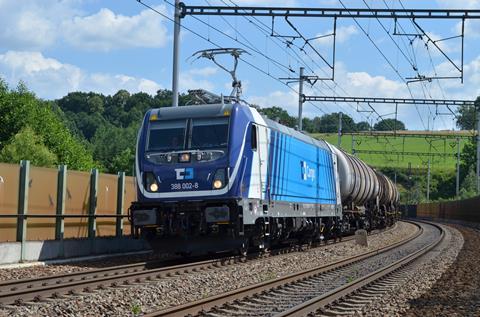 CZECH REPUBLIC: The first two Bombardier Transportation Traxx MS3 electric locomotives entered revenue service this month. They are being operated by ČD Cargo, which awarded a framework contract for up to 50 of the locomotives in August 2019 with firm order for an initial 10.
'It's a very proud moment for everyone at Bombardier to see the Traxx MS3 locomotive enter commercial operation', said Tomáš Holý, Bombardier Transportation Sales Representative for the Czech Republic & Slovakia.
Designated Class 388, the ČD Cargo locos are fitted with GSM-R and ETCS Baseline 3 onboard equipment, as well as the PZB/LZB, Mirel and SHP train protection systems for use on freight and passenger services in the Czech Republic, Slovakia, Germany, Austria, Poland and Hungary. There is an option to obtain authorisation for use in Slovenia and Croatia.
'Using this modern locomotive in our fleet will enable us to offer our customers additional services, thanks to its increased power and efficiency', said ČD Cargo Chairman Ivan Bednárik. 'We are proud to be the first to operate the Traxx MS3 locomotive, the first locomotive to be fully compliant with the new Czech electromagnetic compatibility standard, which is one of the most stringent in Europe.'
Bombardier Transportation announced the development of the Traxx MS3 at the Transport Logistic trade fair in Germany in 2017. It is designed for 15 kV 16·7 Hz, 25 kV 50 Hz AC and 1·5 and 3 kV DC power supplies, the four most common electrification systems in Europe. It is rated at 6 MW, has a maximum speed of 160 km/h, and Bombardier offers options for radio remote control and a 230 kW 'last-mile' powerpack.
The first Traxx MS3 was officially unveiled at the manufacturer's Kassel plant in July 2018.
More than 2 000 Traxx locomotives are now in service in 20 countries.