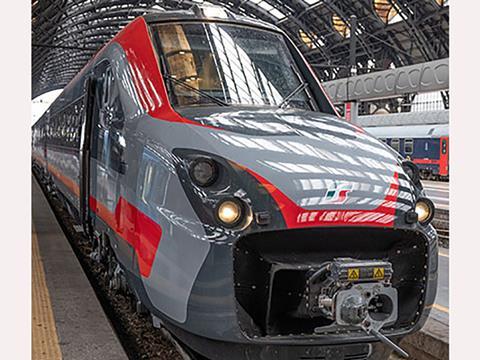 ITALY: The first four of 17 ETR700 trainsets originally built for Fyra services in the Netherlands and Belgium are to enter commercial service with Trenitalia on June 9, FS Group announced on June 3.
The trains are branded
Frecciargento
and will initially operate between Milano and Ancona, with two return workings a day. The rest of the fleet will be phased in by early 2020 on the Adriatic Corridor linking Milano and Venezia with Ancona, Pescara, Termoli, Foggia, Bari, Lecce and Taranto. Trenitalia says that introduction of the ETR700 fleet forms part of the upgrading and modernisation programme for the Adriatic Corridor. Each eight-car set has 500 seats in three classes: standard, premium and business. Premium and business class passengers will be offered welcome drinks and snacks as well as morning newspapers. A 'Frecciabistro' catering service with hot and cold food and drinks is provided in Car 4. Accommodation for passengers with reduced mobility and accompanying travellers is available in Car 2. The 250 km/h trains have been equipped with 'wi-fi Fast' which aggregates 3G and 4G from multiple suppliers to ensure that passengers have stable internet access. Trenitalia's ETR700 fleet began life as V250 trainsets built by AnsaldoBreda for Fyra services which were launched in 2012. They suffered a series of high-profile failures, and were repurchased by the supplier. Trenitalia then acquired 17 of the 19-strong fleet under a 'bargain purchase' deal which included five years of maintenance. They have been refitted internally and are finished in a red and silver livery. Their ability to operate using 3 kV DC or 25 kV 50 Hz power supplies makes them suitable for operation throughout the Italian main line network.