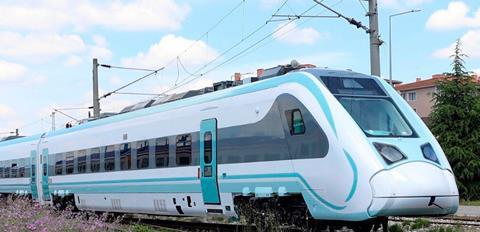 TURKEY: The National Train electric multiple-unit developed under a programme to increase the use of domestic technology and support the adoption of TSI standards has been completed and is expected to enter revenue service this year, Minister for Transport & Infrastructure Adil Karaismailoğlu said during a visit to state-owned passenger rolling stock manufacturer Tüvasaş on June 15.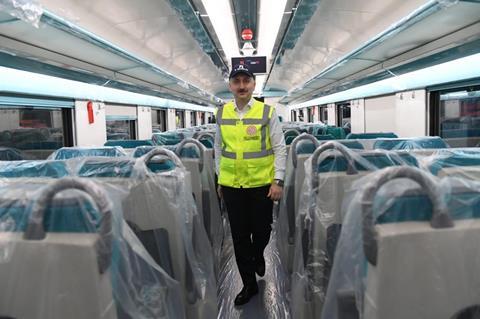 The 25 kV 50 Hz EMU is designed for 160 km/h operation, but will be tested at up to 176 km/h.
Karaismailoğlu said work was continuing on the design of a 225 km/h trainset, but gave no indication when this might be ready to enter service.
The National Train has five aluminium-bodied coaches, including first class and a buffet car, with a total of 324 seats, two spaces for disabled passengers, LED lighting and five toilets. The axleload is less than 18 tonnes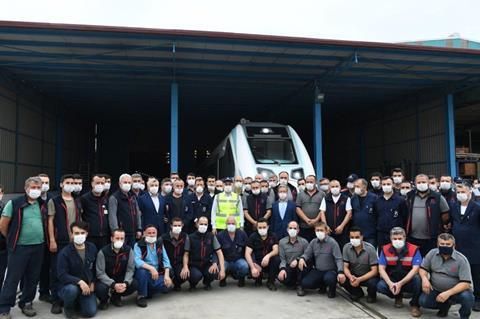 Principal contractors include Aselsan, which has designed the train control and management systems, bogie supplier Bozankaya and traction equipment supplier Tülomsaş.
An official launch ceremony is planned for August 30, to mark the start of operational testing. A ceremony which had been planned for May 29 was cancelled, owing to the ongoing process to create state-owned railway equipment supplier Türasaş through the merger of Tüvasaş with loco manufacturer Tülomsaş and wagon builder Tüdemsaş.