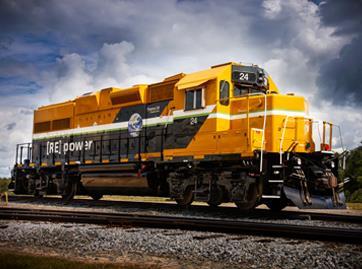 USA: Union Pacific has ordered 10 EMD24B low-emission locomotives from Progress Rail for yard shunting work in California. Announced on May 1, the order is the first for the EMD24B design, following the testing of a demonstrator by Pacific Harbor Line at the ports of Los Angeles and Long Beach.
The contract is being partially funded by the Bay Area and Sacramento Metropolitan air quality management districts, under the Goods Movement Emission Reduction Program, a partnership between the California Air Resources and local boards.
To be built at Progress Rail's plant in Patterson, Georgia, the locomotives will incorporate the shells of former Missouri Pacific GP38 four-axle units. They will be fitted with a 2 000 hp Caterpillar 3512C HD engine, Kato alternator, rebuilt D78 traction motors, and a Zeit Sal V locomotive control system, along with a new Atlas Copco rotary screw air compressor and a new cab heating and ventilation system.
The EMD24Bs will be the first UP locomotives equipped with Selective Catalytic Reduction to achieve the Tier 4 emission standards. Although SCR has been adopted by a number of North American commuter operators and some Class II and III freight railroads, the technology had been almost universally shunned by the Class Is, due to the need to fit onboard urea tanks and the prohibitive cost of installing refilling facilities at fuelling points across their networks. Their preference for main line locomotives has been the self-contained Exhaust Gas Recirculation technique.
Due for delivery in August and September, the UP locomotives are to be maintained at Roseville, and will be used for yard shunting and branch line duties around Sacramento, Oakland, and Stockton. In-service verification testing will take place at UP's City of Industry yard. If the locomotives are successful, a second batch may be ordered for use in southern California.
The single-engined locomotives were described by UP's Director of Locomotive Engineering Mike Iden as 'an invaluable addition to our fleet' for low-horsepower applications. According to the railway, they 'are designed to ultimately replace the genset concept that UP pioneered in 2005'.