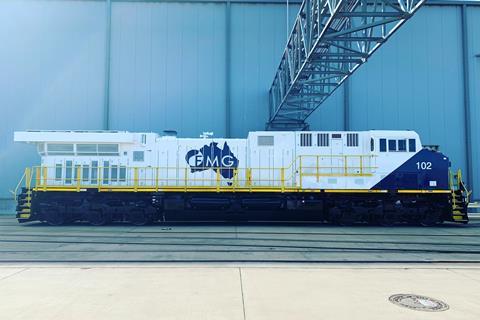 AUSTRALIA: Wabtec is supplying a fleet of modernised diesel locomotives to an Australian customer for the first time, with a contract to rebuild 28 second-hand diesel locomotives for delivery to Fortescue Metals Group over two years.
The locos are being rebuilt to the AC44C6M specification at Wabtec's Fort Worth site in Texas. The work includes installing a refurbished engine, new electrical cabinets, a new design of high-efficiency radiator and radiator cab, an upgraded control system to remove obsolescence, and AC traction motors with individual axle control.
'While we have completed more than 1 000 modernisations for customers globally, it's a first for Australia and demonstrates Fortescue's commitment to drive more sustainable rail operations', said Wendy McMillan, Wabtec's Senior Regional Vice-President, Southeast Asia, Australia & New Zealand.
'By repurposing and rebuilding our locomotives, we give these heavy-haul trains another 20 years of life, while reducing the fuel consumption and maintenance, and repair and overhaul expenses by up to 20%. For Fortescue, the modernised trains will deliver up to a 55% increase in tractive effort and more than 40% increase in reliability.'
Fortescue's General Manager Hedland Operations, Mark Komene, explained that 'this newly modernised fleet will enable substantial long-term capital and operating costs savings, provide the latest traction and control technology, and enable future upgrades to alternative energy sources such as battery electric in support of Fortescue's industry-leading target to be carbon neutral by 2030.'