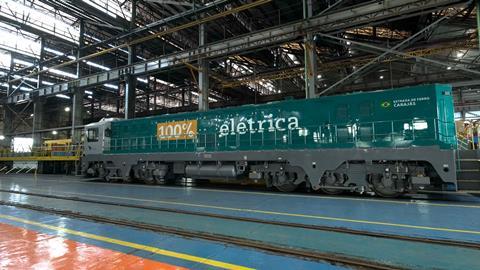 BRAZIL: Vale's Estrado de Ferro Carajás has taken delivery of a battery locomotive for trials to inform decisions on its traction decarbonisation strategy.
The latest locomotive has been supplied by CRRC Zhuzhou Locomotive, and follows from an EMD Joule battery loco which Progress Rail's Sete Lagoas factory delivered to Vale's Tubarão Complex at Vitória on the Estrado de Ferro Vitória a Minas line in 2020.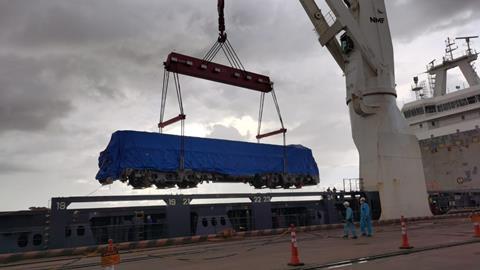 The Chinese machine has lithium batteries with a capacity of 1 000 kWh, enabling it to operate for up to 10 h before recharging. Following systems verification, the loco is to be used for shunting at the Ponta da Madeira Terminal in São Luis from July. The operator will then consider modifying it for main line use.
The two battery locomotives were ordered as part of Vale's Powershift programme to electrify its mining and railway equipment, which account for 25% of the company's Scope 1 direct carbon emissions; Vale operates 2 000 km of railways and has a fleet of 490 diesel locomotives dedicated to iron ore traffic. In 2019 the company announced a goal of zero Scope 1 and 2 net emissions relating to electricity consumption by 2050.
'The arrival of the electric locomotive at EFC is an important milestone for Vale's zero carbon journey', said EFC Executive Manager João Silva Júnior on May 2. 'We are building a robust plan that will allow us to drastically reduce CO2 emissions from our rail operations. We are increasingly reaffirming our commitment to a more sustainable Vale.'