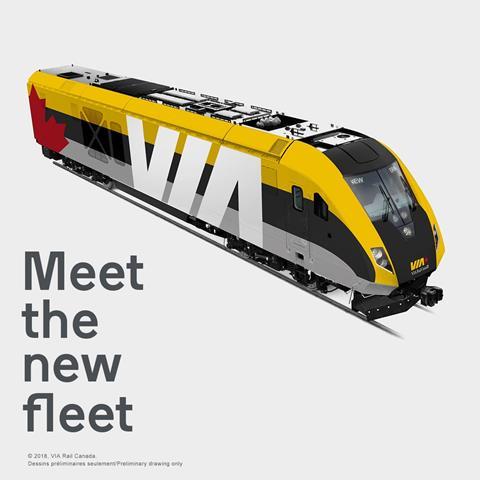 CANADA: Siemens has been awarded a C$989m contract to supply a fleet of 32 push-pull inter-city trainsets to enter service on the Québec City - Montréal - Toronto - Windsor corridor from 2022, national passenger operator VIA Rail announced on December 12.
Each trainset will be formed of one locomotive and five coaches, including a driving trailer; both economy and business class seating will be provided, with around 285 seats per train. The Siemens Charger diesel-electric locomotives will be similar to more than 70 in service in the USA and will meet US EPA Tier 4 emission standards.
Push-pull operation is intended to lower operating costs and provide more passenger capacity. The single-deck coaches will feature LED lighting, USB ports, wi-fi, wide seats, quiet zones, cycle storage, flexible luggage space and 'the latest in food service equipment'.
Accessibility features are to include multiple spaces for wheelchairs and mobility devices, braille seat numbering, companion seating, at-seat emergency call buttons, large accessible toilets and integrated lifts for mobility devices.
The trainsets are to be manufactured at Siemens Mobility's main North American rolling stock production facility at Sacramento in California for delivery from 2021. Siemens aims to have Canadian supply and service content of more 20%.
VIA Rail employees will maintain the fleet at the operator's Montréal and Toronto depots throughout their expected 30-year service life, supported by a 15-year technical services and spares supply agreement valued at C$23·7m/year.
Bombardier Transportation Canada, Siemens Canada, Stadler US and Talgo had prequalifed for the contract, and VIA Rail said three bids were received. The evaluation process looked at quality, price and in particular on-time delivery, as VIA Rail intends to withdraw some of its life expired existing stock from 2019.
'As is the case in its day-to-day business practices, VIA Rail conducted a procurement process that was fair, open, rigorous and transparent', said Françoise Bertrand, Chair of the VIA Rail board. 'Having an open bidding process, available to all interested suppliers, allowed VIA Rail to reap the benefits of having the best railway companies in the world competing to supply the Québec - Windsor corridor fleet. VIA Rail's Board of Directors is convinced that the decision announced today represents the best value for money for all Canadians.'