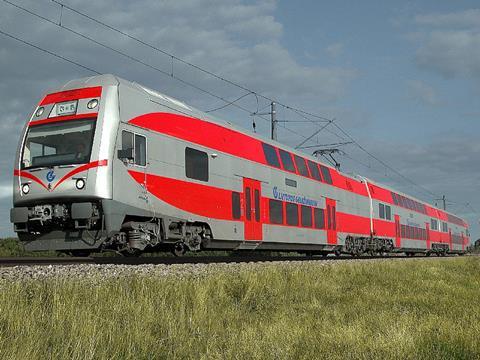 LITHUANIA: Czech rolling stock manufacturer Škoda Vagonka has won a KC750m contract to supply three three-car Class 575 double-deck electric multiple-units to Lithuanian national operator LG for use on cross-border services between Vilnius and Minsk in Belarus.
LG and its Belarus counterpart BC plan to reduce the journey time between the capitals by 30 min to 2 h h honce 25 kV 50 Hz electrification of the corridor is completed by the end of 2015.
The EMU order announced by Škoda Vagonka on December 1 follows the supply of three two-car and seven three-car versions of the EMUs in four batches in 2008–14 for use on the Vilnius – Kaunas inter-city route.
The latest batch of EMUs is scheduled to be delivered within 36 months. Modifications for use on the international route will include a train crew compartment, different seats, bilingual audio-visual passenger information systems and additional racks for large items of luggage.