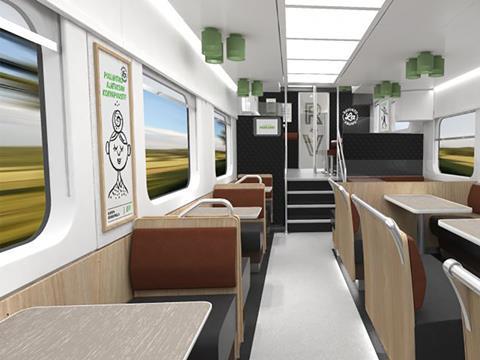 FINLAND: National railway VR Group has awarded Škoda Transtech a €24m contract to supply a further seven double-deck dining cars. They are to be to be produced at the Škoda Transportation subsidiary's Kajaani factory for entry into service on the Helsinki – Turku and Helsinki – Tampere routes in 2021-22.
The TSI-compliant aluminium-bodied vehicles will be suitable for operation at up to 200 km/h, with deformation zones to absorb energy in the event of a collision. The cars and gangways will be pressure-tight, and insulated for operation in temperatures down to -35°C.
The lower deck will have a galley, buffet counter and dining area, with an open café space for passengers to meet which can also be used for cultural events. A kiosk at the other end of the car will provide services for the upper deck, which will have seats for passengers and could be used as a conference room for up to 41 people.
'Customers appreciate our renewed restaurant services and their popularity is growing, by 20% over the last couple of years', said Maisa Romanainen, VR's Senior Vice-President of Passenger Services, when the order was announced on April 25. 'At the same time we are continuing to increase the capacity of our cars. Since 2015 we have invested €235m in our rolling stock including the new restaurant cars.'
The menu is seasonal, and Romanainen said meatballs were the best selling option, with more than 80 000 portions sold every year. Salmon soup is also popular, and more than 1·6 million cups of coffee a year are drunk.
Škoda Transtech has previously produced 26 restaurant cars for VR, as well as seating, sleeping and push-pull driving cars. 'I am happy that this order will allow us to continue our collaboration with VR and the 290 cars we have already built for them', said Škoda Transportation Group President & Chairman Petr Brzezina.