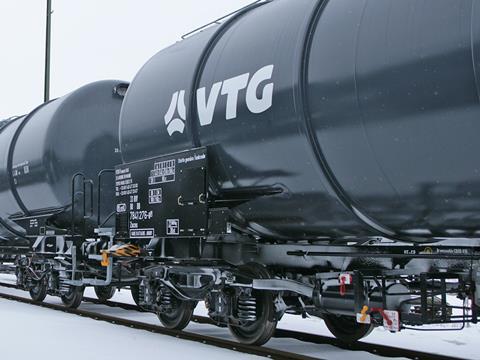 VTG: Leasing company VTG has strengthened its position in the US market and completed a 'major strategic step' in Russia through a series of wagon acquisitions.
VTG Rail Inc has expanded its US fleet to around 5 200 vehicles with the acquisition of Redwood Rail's 1 135 grain, cement, sand, plastics, log and other wagons, along with associated lease agreements with customers including two Class I railways and a commodities company.
'Acquiring the fleet is an important strategic step that will further strengthen our position in the US market', said VTG Rail President Chris Schmalbruch on June 26. 'Having purchased the Sumitomo fleet of around 2 450 railcars at the end of 2011, we are very pleased to have found another investment that is an excellent fit for us and complements our portfolio.'
Separately, VTG Rail Russia has acquired 220 caustic soda tank wagons from United Wagon Co which are leased to RusVinyl under a deal running from 2014 to 2024, and has also purchased 30 chemical tanks wagons for lease to Khimprom on long-term contracts. These investments take VTG Rail Russia's fleet to 3 300 wagons.
'We are very pleased that two prominent Russian chemical companies of the calibre of RusVinyl and Khimprom are convinced by what we have to offer', said Oksana Janssen, Head of Business Unit Rail Russia at VTG AG on June 23. 'That has given us a point of entry to a very attractive market, and we have taken a major strategic step toward expanding our Russian business.'