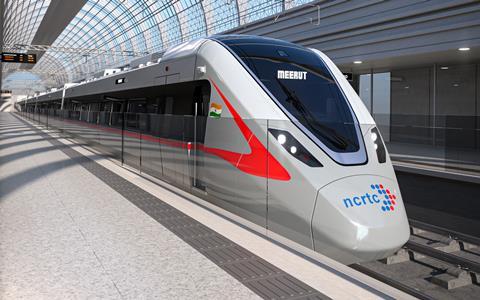 INDIA: Wabtec Corp has been awarded a US$15m contract to provide braking systems, pantographs, roof disconnector switches and passenger information systems for the 40 electric multiple-units which Alstom is to build for the 82 km Delhi – Meerut Regional Rapid Transport System.
Wabtec said its high-performance braking systems would offer high reliability and improved maintenance intervals. The pantographs would be aerodynamically designed to perform under different conditions, with 'state-of-the-art' safety features including auto-drop and maximum extension devices, condition-based monitoring and smart-carbon strips. The audio-visual passenger information systems will include dynamic route maps, infotainment, CCTV and auto-diagnostic features.
Wabtec said there would be 'substantial' content produced in line with the government's Make in India strategy.
'This order and partnership with Alstom will open up multiple opportunities and provide Wabtec with a significant first mover advantage in India on this rapidly evolving regional train platform as more corridors are implemented across National Capital Region and other parts of the country in the coming years', said Preetam Ganguly, Sales & Marketing Director for Wabtec Transit India when the contract was announced on May 4.
In May 2020 National Capital Region Transport Corp awarded Bombardier Transportation, since acquired by Alstom, a Rs25·77bn contract to supply 40 EMUs for the Delhi – Meerut RRTS and provide 15 years of maintenance.
The order includes 30 six-car 25 kV 50 Hz EMUs for 160 km/h regional services on the route from Delhi, and 10 three-car high capacity units to work local services on the 21 km 13-station section between Meerut South and Modipuram Depot. The fleet will be produced at the manufacturer's Savli plant.