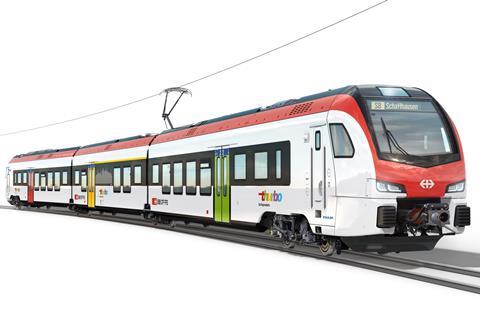 SWITZERLAND: The Federal Administrative Court has rejected Alstom's challenge to the decision by Swiss Federal Railways, Thurbo and RegionAlps to award Stadler a framework contract for the supply of up to 510 electric multiple-units.
The tendering process began in May 2020, with SBB and its two joint ventures saying the procurement of a uniform fleet would simplify operations and increase the competitiveness and attractiveness of public transport.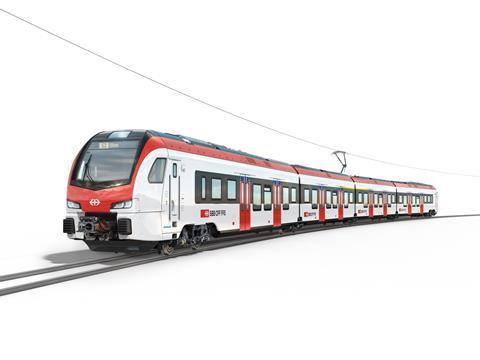 Alstom, Siemens and Stadler prequalified, and in October 2021 Stadler was selected as the winner of what was described as 'largest tender in Swiss railway history'.
Alstom appealed, but the court has now confirmed that SBB complied with procurement law requirements and the equal treatment of bidders.
This clears the way for the signing of a firm order for an initial 286 Flirt EMUs worth around SFr2bn; further details will be given once the contract has been signed, Stadler said on May 25.
The Flirt units will be manufactured at Bussnang, with Swiss content accounting for around 75% of the total value added. The delay caused by the legal proceedings means the entry into service of the first train has been put back from December 2025 to 2026, with the trains expected to gradually replace SBB's Domino and first generation Flirt trainsets, Thurbo's GTW multiple-units and RegionAlps' Domino and Nina fleets.
Swiss Flirt EMU framework contract
Operator
Replaces
Firm order
Options
SBB
Domino, Flirt (first generation) and locomotive-hauled shuttle trains
155
174
Thurbo
GTW
107
40
RegionAlps
Domino and Nina
24
10
Total
286
224