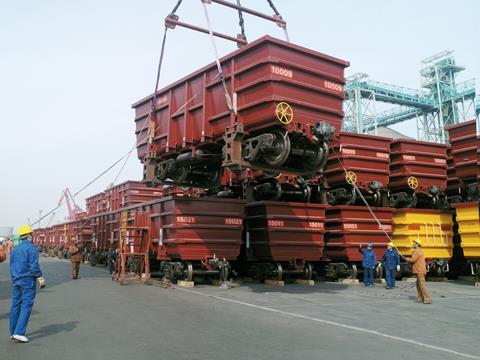 Australia: Sydney Trains has exercised a A$225m option to extend Downer EDI's maintenance contract for its fleet of 35 four-car Millennium EMUs for a further 10 years from June.
Alstom has been awarded a €100m contract to supply a further nine six-car X'Trapolis 1·5 kV DC EMUs for Melbourne's 1 600 mm gauge suburban network by late 2018.
Cuba: Russia's RM Rail has signed a contract to supply a further 225 wagons this year, following on from 363 delivered last year. The latest order covers 50 sugar hopper wagons, 70 60 ft container flat wagons and 105 covered vans.
Finland: Private operator Fennia Rail has ordered two CZ Loko Class 774.7F EffiShunter 1600 diesel locos for delivery this year, similar to three supplied in 2015 (RG 9.15 p19).
France: Having worked with the government to find 'a balanced solution' to maintaining employment at Alstom's Belfort plant, SNCF confirmed on February 16 that it would be ordering 15 TGV L'Océane double-deck trainsets for the Paris – Bordeaux route, following on from a current order for 40. This will save €150m that it would have spent on refurbishment, and provide a younger, homogenous fleet (RG 3.17 p38).Deliveries are scheduled for 2019-20.
Germany: Berlin's BVG has ordered 21 more Bombardier Flexity Berlin trams for €71m as the final option in its framework contract.
Bentheimer Eisenbahn has directly awarded Alstom a contract to supply five Coradia Lint 41 DMUs for the reinstatement of passenger services on the 30 km Bad Bentheim – Neuenhaus line.
Kenya: CRRC Qiqihar has begun delivering 330 wagons for the Mombasa – Nairobi Standard Gauge Railway. The Type C70E open wagons are to be used to carry coal, ore, construction materials and machinery.
Netherlands: NS is to purchase at its own risk two additional Alstom EMUs as an option on its Inter-city New Generation programme. These are intended to operate Amsterdam – Brussels services from 2025, when the ICR coaches reach the end of their life. The EMUs would ensure continuity of service whoever might operate the services once the current concession held by NS expires.
Poland: Slaskie voivodship has exercised a 33·4m złoty option for two more Pesa Elf2 four-car EMUs, taking its joint order with K to 19 units.
Bombardier has agreed a five-year framework to supply Pesa Bydgoszcz with EBI Cab 2000 automatic train protection equipment for installation on new vehicles for the Polish market.
On February 28 ód suburban operator KA signed a contract for Newag to supply 14 three-car Impuls 2 EMUs for 236·8m złoty, and maintain them for 12 years at a cost of 1·476 złoty/train-km. Stadler supplied the current fleet of 20 two-car Flirt3 EMUs and had been named preferred bidder for the latest contract in September, with an offer of 260·9m złoty and 2·214 złoty/km, which beat rival proposals from Newag and Pesa. Newag successfully challenged this decision, and an initial appeal by Stadler was rejected.
PolRegio has ordered three Pesa Link two-car DMUs for 37·6m zloty, with options for two more. These will be units originally ordered by Netinera for Oberpfalzbahn services but subsequently cancelled.
Autosan is to supply 6·5 m low-floor centre sections to replace high-floor sections of MPK Kraków GT8S trams. The 759 000 złoty base order covers six, with options for up to 14 more.
Russia: The government has launched a programme offering financial support for the replacement of life-expired shunting and other locomotives used on industrial railways which are not part of the national network.
TikhvinChemMash is to supply Ural Mining & Metallurgical Co with 24 sulphuric acid tank wagon for use at its Sredneuralsk and Svyatogor copper production facilities. The wagons will have 25 tonne axleload bogies permitting a payload of 77 tonnes, a 10% increase on older wagon designs, while the sloping tank will improve drainage.
KuibyshevAzot has ordered 100 TikhvinChemMash Type 15-6926 ammonia tank wagons.
Sri Lanka: India has agreed credit totalling US$100m for the purchase of 10 locos and six multiple-units.
Sweden: Hector Rail has ordered a further 15 Siemens Vectron AC electric locos with last-mile modules as an option on a July 2016 order for five.
Turkey: CZ Loko has supplied two Class 744.7 diesel-electric locos to Erdemir's Ereli steelworks. The Bo-Bo locos have 1 MW Caterpillar 3508C engines with Siemens AC/DC transmission and MSV Elektronika controls allowing multiple operation.
UK: Eversholt Rail has awarded Knorr-Bremse RailServices a contract to undertake a £6m refurbishment of 22 Class 320 EMUs leased to ScotRail.
USA: Illinois DOT has awarded SNC-Lavalin a contract worth US$4·8m over three years to provide fleet management services including oversight of maintenance and operation of 'at least 33' Siemens Charger locomotives and 'up to 88' double-deck coaches. Two additional three-year options would have a combined value of US$14m.
Knoxville Locomotive Works has begun delivering SE10B and SE15B diesel locos ordered by Locomotive Solutions for use at chemical plants in Texas, with partial funding from the Texas Emissions Reduction Plan. They are expected to reduce fuel consumption by up to 50% and emissions by up to 90%. compared to the current locos.
Connecticut DOT has awarded NRE a five-year contract to extend the operating lives of six EMD GP40-2H diesel locoss used on commuter services. NRE said it would be able to produce 90% of the content in-house, and it intends to 'more aggressively pursue transit system contracts' as it grows and expands its capacity and capabilities.