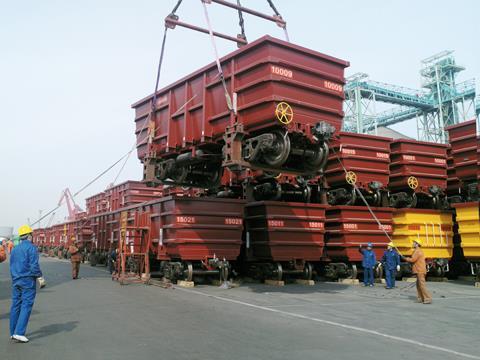 Argentina: Rioro SA has been awarded a 166m pesos contract to repair 28 type CT16A wagons for Belgrano Cargas y Logística. This and a 60m pesos contract to repair 10 CT54 wagons are being undetaken by the Rioro workshops at Pérez.
Brazil: Porto Alegre metro operator Trensurb has awarded CAF Brasil a R$79·7m contract to maintain its 25 four-car trainsets for five years.
Ferrovia Centro-Atlântica concessionaire VLI is investing RS$15m in its rolling stock workshops at Lavras. The freight operator is due to rebuild 26 GE BB36 diesel locos by the end of the year.
Cameroon: In June Camrail took delivery of 30000 m of rail, 25 tank wagons of 55 m3 capacity and 50 flat wagons, ordered at a cost of FrCFA 5bn.
China: CNR Changchun is to supply metro cars for Nanchang Line 1 and Wuhan Line 3; they will incorporate extrusions from Jilin Midas Aluminium.
Europe: On June 25 Railpool announced an order for 35 Bombardier Traxx locos at a cost of €135m for delivery in 2015-16. An option for up to 30 more would take the value to €250m. Bombardier will also upgrade safety systems on the existing fleet. The order includes multi-system locos to operate between Poland and the Netherlands, and AC locos with ETCS and 'last mile' engines for Germany, Switzerland, Austria, Hungary and Romania.
Siemens has received type approval for its Vectron MS in Germany and Vectron AC in Norway, where CargoNet has put two locos into service on Oslo – Bergen freight trains.
India: Titagarh Wagons has announced its first contract in the metro market, for the mid-life refurbishment of seven eight-car Kolkata metro trains.
Israel: Stadler, CNR, CAF, Alstom and Vossloh have submitted bids to supply 90 light rail vehicles to Tel Aviv from 2017, with an option for 30 more.
Kazakhstan: KTZ has ordered 13 compartment, 33 third class and six staff sleeper coaches from Tver Carriage Works. Similar to vehicles ordered by RZD, the 160 km/h coaches will have wheelchair lifts, retention toilets and air-conditioning.
Pakistan: CNR Corp has begun delivering 40 generator cars to PR.
Peru: PeruRail has ordered four 1 800 hp M629 locos from Sygnet Rail Technologies to haul passenger services on the 914 mm gauge line from Cusco to Machu Picchu. They will incorporate the Sygnet Power Module which contains a Cummins QSK engine along with the alternator, rheostatic braking, cooling and control systems.
Poland: Pomorskie voivodship has selected Pesa for a 114m złoty contract to supply seven three-car and three two-car 120 km/h DMUs by May 2015 for use on the Pomorska Kolej Metropolitalna line which is under construction to link Gdask to the city's airport and Gdynia.
With 25% EU co-financing, Polzug has awarded Newag a 22m złoty contract to supply six SM42 shunting locos rebuilt as Type 6Dg. Polzug has also allocated 110m złoty to acquire up to 315 Sggnss wagons.
Łódź voivodship has selected ZNTK MM to rebuild four type EN57 EMUs for 25·2m złoty, with complete interior replacement and new AC traction equipment.
Pesa was sole bidder for a contract to supply five bidirectional trams to Tramwaje Warszawskie, offering its JazzDUO for 47·8m złoty with delivery in October 2015. PPUH Elektro-Instal Anna Kosteczko is to supply three road-rail crane vehicles for 1·8m złoty.
Tramwaje lskie has selected Modertrans to supply 12 Moderus Beta 25% low-floor trams by the end of May 2015 under a 58·3m złoty contract.
Romania: Arad has awarded Astra Passenger Coaches a €6·6m contract to supply six 27 m long trams.
Russia: Having co-operated to supply Foxtrot trams to Moscow, (RG 4.14 p18), Pesa and Uralvagonzavod have signed a letter of intent to establish a joint venture to supply railway rolling stock in Russia.
Tver Carriage Works unveiled its 100% low-floor 71-911 City Star single-section tram in Moscow on July 3. It has been designed with PK Transportnye Sistemi. TVZ plans to produce 10 this year.
RZD has approved the technical designs for Tver Carriage Works' planned double-deck coaches for 160 km/h inter-regional services.
United Wagon Co has signed agreements for wagons it supplies to be maintained by VRK-3's Belogorsk workshop and at Kaliningrad Railways' Chernyakhovsk site.
Slovakia: Bratislava transport authority DPB has exercised an option for Škoda Transportation to supply a further 30 ForCity Plus trams and provide 15 years of maintenance support. The order covers 15 bi-directional Type 30T trams for delivery in late 2015 at a cost of €39·3m, and 15 unidirectional Type 29T trams for delivery by the end of 2016 at a cost of €36·75m.
Spain: EuskoTren has awarded CAF a €150m contract to supply 12 EMUs for the future Bilbao Metro Line 3, and 16 to replace existing Series 200 and 300 units. Deliveries will be between 2015 and 2020.
Switzerland: On June 9 SBB announced a SFr397m firm order for Stadler to supply 19 six-car double-deck EMUs from late 2018 to enable service frequencies to be increased on the Zürich S-Bahn network, and a SFr62m order for six four-car Flirt EMUs to operate in the cantons of Vaud and Zug from 2016. The orders are being funded by the federal and cantonal authorities.
USA: Amtrak has begun testing a baggage car supplied by CAF USA as the first of 130 coaches of four types which are on order. It is intended to offer improved reliability, easier maintenance and better loading and unloading procedures. It is fitted with bike racks.