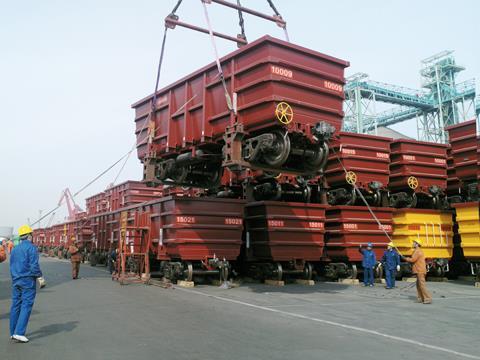 Brazil: Development bank Bndes is to provide R$705m to finance half the cost of 12 GE Transportation AC44i locomotives being acquired by VLI and seven by Rumo Logística.
Canada: National Steel Car has been awarded a C$70m contract to supply 700 potash hoppers to Canpotex.
China: CSR Zhuzhou rolled out the first eight-car Type A train for the future Shenzhen metro Line 11 on July 6. Deliveries of the 33 trainsets ordered for 2·1bn yuan are due to run from September 2015 until June 2016.
Colombia: CAF signed an €89m contract with Empresa de Transporte Masivo Valle de Aburrá on July 2 to supply 20 three-car trainsets for the Medellín metro.
Côte d'IvoireE: The first two of six GT26 diesel locoes being supplied to Sitarail by National Railway Equipment arrived in Abidjan on June 24.
Denmark: Nordjyske Jernbane has awarded Alstom a €45m contract to supply 13 Coradia Lint regional DMUs by late 2017, when NJ is due to take over from DSB as the operator of local-authority funded services north of Skørping.
Egypt: Stadler Rail, Ganz Motor and Dunakeszi Jármjavító have submitted a joint bid to supply 25 10-car DMUs to ENR.
Germany: Following trials with two prototypes, Berlin's BVG has placed a €60m firm order for 11 Stadler Pankow four-car Type IK metro trainsets. Deliveries are due in 2017.
Chemnitz has placed a €23·7m order for four more Vossloh CityLink tram-trains.
EIB is to provide a €340m long-term loan to support the €1·7bn purchase of 82 Siemens Desiro HC high-capacity EMUs for use on Rhein-Ruhr Express services from December 2018. A further credit of €283m will be provided by KfW IPEX-Bank, and additional funding is coming from Helaba.
Hungary: On July 15 MÁV-Start awarded Stadler Bussnang a €125m contract to supply 21 Flirt EMUs for Budapest suburban services in two batches by the end of 2016. The order is to be funded from EU sources.
India: Delhi Metro Rail Corp has awarded Bombardier a Rs15bn contract to supply 162 metro cars from its Savli and Vadodara plants in 2016-18.
Kazakhstan: The Tulpar-Talgo rolling stock manufacturing joint venture has taken delivery of the first batch of Talgo coach bodyshells supplied from Spain which are 3 200 mm wide instead of the 2 950 mm of previous cars.
Poland: witokrzyskie voivodship has awarded Pesa an 11·9m złoty contract to supply a three-car 160 km/h EMU by March 2016.
Pesa signed an agreement to supply two more Gama Marathon diesel-electric locos to leasing company PHU Lokomotiv on July 8, taking its fleet to three. PHU Lokomotiv leased the first to freight operator Ecco Rail, which has decided to use it on a longer-term basis.
Track Tec has taken delivery of turnout transport wagons with hydraulic tilt mechanisms designed by EC Engineering and built by Newag.
Russia: Ural Locomotives has formally launched production of a 'premium' version of the Lastochka EMU, with more comfortable seats, toilets in every car, power sockets and wi-fi to make them more suitable for longer-distance routes of around 200 km. They will also incorporate a higher proportion of domestically produced components.
Sinara and Siemens have signed a memorandum of understanding for the potential production of Sapsan (Velaro RUS) high speed trains in Russia.
First Freight Co and Sberbank Leasing have signed a 15bn rouble sale and leaseback deal covering 7 700 wagons.
Tver has received type approval for Type 61-4505 mail vans with an increased capacity and higher maximum speed of 160 km/h, as well as a loading lift and security systems which enable the crew to monitor up to 10 vans.
Saudi Arabia: Following a review of its rolling stock needs, on July 15 SRO said that it would not proceed with a US$201m order for six 200 km/h Talgo diesel trainsets for the Riyadh - Dammam line announced in February. A decision regarding a new tender would follow further analysis.
South Africa: Transnet and KfW Development Bank have signed a R2·8bn loan to fund 240 Bombardier electric locomotives. The loan matures in 15 years, with a five-year interest-only period, and was negotiated in rand.
Sweden: EuroMaint has been awarded a new contract to continue to maintain SJ's X2000 and coach fleets from March 2016.
Ukraine: UZ has awarded Hyundai Rotem a three-year extension to its contract to maintain the 10 nine-car inter-city EMUs supplied under a contract signed in December 2010.
Elektrontrans is to supply seven Type T5B64 Elektron trams to Kyiv for 183·75m hryvnia. The 30 m long five-section 100% low-floor cars with a capacity of 287 passengers will be a 1524 mm gauge version of cars in service in Lviv.
USA: Dallas Area Rapid Transit has exercised an option for two more Liberty Modern Streetcars from Brookville Equipment Co.