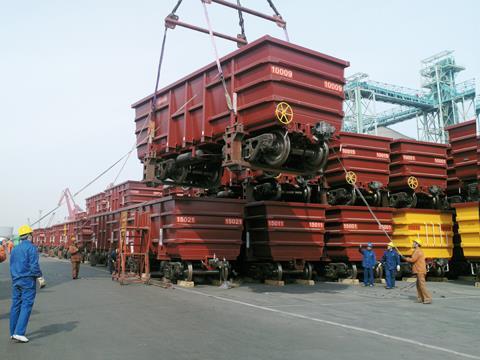 Austria: On June 29 ÖBB placed a €188m firm order for 19 six-car Talent 3 EMUs for use in Tirol from 2020, and six for use on cross-border services to Italy from 2021. This is the second order to be placed under a 2016 framework contract for up to 300 units.
Brazil: São Paulo commuter operator CPTM has awarded Hyundai Rotem an EMU maintenance contract.
Canada: Bombardier Transportation, Siemens, Stadler and Talgo have prequalified to submit proposals for the supply of 32 push-pull trainsets to replace VIA Rail's Québec City – Windsor corridor fleet. Proposals are due by October 5, and the trainsets are expected to enter service from 2022.
China: CRRC Nanjing Puzhen has won a contract to supply 50 six-car trainsets for Nanjing metro Line 5.
CRRC Qingdao Sifang has rolled out the first tram for Delingha, which is expected to enter service by the end of the year. The two-section low-floor tram is equipped with a supercapacitor and lithium-titanate battery which can be charged at stops in 30 sec.
Czech Republic: EP Cargo has added a second Siemens Vectron MS to its fleet; the electric loco bought from Siemens was previously leased to STB and Salzburger Lokalbahn of Austria.
CZ Loko has launched the EffiShunter 600 four-axle locomotive, replacing the EffiShunter 500 and 700 in its portfolio. The EffiShunter 600 is fitted with a 563 kW Caterpillar C18 engine meeting Stage IIIB emission standards.
Estonia: UWC's TikhvinSpetsMash factory has supplied 162 Type 13-6852-02 timber wagons to Operail's leasing subsidiary WagonPro. The 25 tonne axleload wagons offer a capacity of 74 tonnes or 122 m3, with overhaul intervals of 800?000 km or eight years comparing favourably to the 210?000 km or three years of older designs.
Europe: Ðuro Ðakovic has won orders worth 87m kuna to supply Slnps wagons to Swietelsky Baugesellschaft and Smnps wagons to Eurailpool in the second half of 2019.
Rath Group's RTB Cargo subsidiary has awarded Siemens a contract to supply three Vectron multisystem locomotives equipped for Austria, the Czech Republic, Germany, Hungary, the Netherlands, Poland and Slovakia.
France: The first Alstom tram for Caen was unveiled on July 10. Deliveries are due to begin in October for entry into service from September 2019.
Germany: EGP placed the first order for Siemens' Smartron electric locomotive on June 21, signing a contract for three to be delivered in 2019. A week earlier the operator had taken delivery of its second Vectron AC.
The first of the Class 484 EMUs that a Stadler-Siemens consortium is supplying for the Berlin S-Bahn was rolled out at Stadler's Pankow factory on June 27.
Frankfurt operator VGF has awarded Alstom a €100m contract to supply 38 three-section Citadis trams, with options for 15. Alstom will also provide driver training, maintenance equipment and warranty services.
GATX Rail Germany has awarded Ðuro Ðakovic Specijalna Vozila a 33·1m kuna contract to supply Shimmns wagons for transporting metal coil.
Italy: Hitachi Rail Italy has signed an €87m contract to supply Milano operator ATM with 12 more Leonardo trainsets for metro Line 2 from late 2019.
Netherlands: Arriva has awarded Stadler a contract to maintain the 69 GTW and WINK multiple-units which it is to operate in Friesland and Groningen under the 15-year Noordelijke Lijnen concession starting in December 2020 (RG 12.17 p10).
North America: Kansas City Southern announced an order for a total of 50 GE Transportation diesel locomotives for its US and Mexican subsidiaries on June 21. The Tier 4-compliant Evolution Series locos are to be produced at Fort Worth in Texas for delivery from early 2019. They will be equipped with GE's GoLINC networking technology, Trip Optimizer fuel saving system and Locotrol distributed power controls.
Russia: UWC's TikhvinChemMash is to supply Shchekinoazot with 176 Type 15-6880 methanol wagons and 119 Type 15-6926 ammonia wagons.
TMH's Tver works has delivered six type 61-4458.00 and 61-4458.01 coaches to Sverdlovsk Suburban Co for use on the Imperatorskiy Marshrut and Visit Tyumen tourist services. A further two cars will follow.
St Petersburg tram operator Gorelektrotrans has selected PK Transportnye Systemy to supply two 100% low-floor 71-931M trams for 152m roubles.
Switzerland: SBB has awarded Alstom a €16m contract to upgrade the train control systems on its 19 ETR610 trainsets with its Atlas ETCS Level 2 Baseline 3 technology for use in Switzerland, Italy, Germany and Austria, with the Swiss national system using a specific transmission module.
UK: Siemens has appointed ESG Rail to provide mechanical and electrical design and first-in-class support services for the installation of Trainguard 200 ETCS Level 2 on Class 66 locomotives under Network Rail's ETCS freight train fitment programme.
Seats from FISA and Schoenemann Design are to be fitted to the Class 196 DMUs which CAF is to supply to West Midlands Trains.
The Office of Rail & Road has granted Type Authorisation for ScotRail's 70 Hitachi Class 385 EMUs. This includes acceptance of flat replacements for the curved windscreens which had resulted in drivers seeing 'ghost' signal aspects (RG 5.18 p27).
Transport for London unveiled the first of 51 Bombardier Class 710 EMUs for London Overground on June 20.
Transport for Greater Manchester has awarded Bombardier and Kiepe Electric a £72m contract to supply 27 more M5000 high-floor trams.
USA: North County Transit District has placed a $37m order for five Siemens SC-44 Charger diesel-electric locos to be delivered between March and June 2021 for use on Coaster commuter services into San Diego. The order has been placed within the 2013 multi-state agreement led by Illinois DoT.
Amtrak has issued a request for information seeking to explore options for 'all types of rail vehicles including coach cars, trainsets and self-propelled units' that could eventually replace its 1970s Budd Amfleet I coaches.