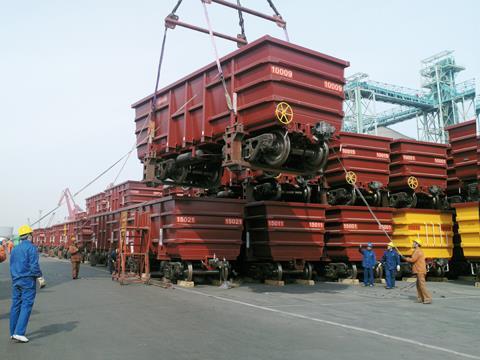 Australia: The UGL Unipart 70:30 JV has been awarded a five-year extension to its contract to maintain Sydney Trains' fleet of more than 1 050 vehicles. The contract runs for five years from July 1, replacing a two-year extension announced in January.
South Australia has awarded Bombardier a contract to supply a further 12 three-car A-City 1 600 mm gauge 25 kV 50 Hz EMUs to increase capacity on the Adelaide suburban network.
Belarus: KVSZ is supplying BC with 500 open wagons by October, financed by Promagrolizing.
Belgium: Brussels operator STIB has placed a €67m firm order for Bombardier to supply a further 30 five-section Flexity trams from December 2020, as an option on a 2018 €480m framework for up to 175.
Canada: Miner Enterprises is to supply its AutoLOK II outlet gates and DuraShield hatch covers for 2 800 high-capacity grain hopper cars being built for CP by National Steel Car and 1 000 similar vehicles for CN.
China: Alstom's Satee and Xi'an Alstom Yongji Electric Equipment Co joint ventures have won contracts totalling €42m to supply Optonix traction systems for 222 metro cars to be supplied for the future Xi'an Line 5 Phase 1 and 180 cars for Phase 2.
Satee and Xayeeco will also supply traction equipment for the 318 metro cars that will operate on the driverless Nanjing metro Line 7.
Czech Republic: ČD Cargo has begun taking delivery of 80 Zacns 88 m3 tank wagons ordered from Tatravagónka Poprad.
Europe: GySEV has directly awarded Siemens a €21m contract for three Desiro Mainline EMUs for use on Deutschkreutz – Wien – Bratislava- Petržalka services operated jointly with similar ÖBB Cityjet EMUs.
RegioJet has bought 18 couchette cars from DB, which it intends to use to lengthen its Praha – Košice night trains. This follows an issue of five-year bonds which raised €40m. The acquisition of 100 more vehicles is planned.
Germany: ODEG has placed a €45m order for eight Alstom Coradia Lint two-car DMUs for use on Netze Elbe-Spree regional services from December 2022. Alstom said the 140 km/h DMUs would be its first with a powerpack complying with EU Stage V emissions regulations, with the 'novel' management system enabling the three 400 kW engines to be switched off individually.
On June 14 Locon took delivery of a Vossloh DE18 diesel loco leased from Beacon Rail, which has ordered four in a €13·1m deal that includes servicing.
Bochum-Gelsenkirchen operator Bogestra has ordered a further eight five-section Variobahn trams from Stadler, as an option on a 2015 order. Delivery is expected in mid-2021.
Hamburger Hochbahn has exercised options to purchase a further 32 three-car DT5 metro trainsets from a consortium of Alstom and Bombardier at a cost of €186m. They will be assembled at Alstom's Salzgitter factory to enter service from January 2021.
Stadtwerke München has exercised options worth more than €200m for Siemens Mobility to supply a further 73 four-section Avenio trams from 2021, similar to those already in service.
Italy: FNM has awarded CZ Loko a €4·2m contract to supply two diesel-electric shunters; there are options for two more and for adding ETCS.
Kazakhstan: TMH's Tver Carriage Works is supplying Tulpar-Talgo with kits for the assembly of 63 Type 61-4447 coaches in Nur-Sultan.
Norway: TSA is to supply 696 traction motors for 87 Urbos trams which CAF is to build for Oslo.
Poland: On July 11 PKP Intercity announced that it had selected Stadler to supply 12 eight-car 160 km/h Flirt EMUs and maintain them for 15 years. A consortium of Pesa Bydgoszcz and ZNTK Mińsk Mazowiecki had also bid, but Stadler's offer of 1·015bn złoty was the only one within PKP Intercity's budget of 1·025bn złoty.
Sole bidder Pesa is to supply 12 electric locos to Rail Capital Partners.
PKP Intercity has signed a 274·8m złoty contract for a consortium of Pesa and ZNTK Mińsk Mazowiecki to modernise 14 Pesa ED74 EMUs with air-conditioning, wi-fi, mobile phone signal repeaters, power sockets and two vending machines for use mainly from Wrocław to Lublin and Kielce.
Russia: UWC's TikhvinChemMash plant is supplying fertiliser producer PhosAgro's Apatit business with 87 Type 15-6900-01 chemical wagons with stainless steel tanks and sealing elements made from a friction and corrosion-resistant fluoropolymer material.
Sole bidder PK TS has won a 498m rouble contract to supply 15 fully low-floor unidirectional single-section Lionet trams to Ulan-Ude.
UniCredit Leasing has awarded UWC's TikhvinSpetsMash a contract to supply 50 timber wagons for use by Luzales. An initial 30 Type 13-6895 wagons are to be delivered by Q4 2019, with 20 Type 13-6852-02 cars to follow in the first half of 2020. They are designed to reduce the amount of unused space and protect the load from damage.
GATX Rail Vostok has taken delivery of 26 Type 15-6900-04 molasses wagons from UWC, which said they are the only 1 520 mm gauge design to offer a stainless steel tank and 25 tonne axleload.
Under a three-year framework agreement for the supply of 17 000 wagons in 2019-21, Uralvagonzavod is to supply RZD's Federal Freight Co with 3 692 open wagons in 2019, of which more than 2 650 will be the latest Type 12-196-02 design.
Switzerland: Alstom is to fit 11 SBB Harsco Rail Europe maintenance vehicles with its Atlas 200 ETCS equipment by the end of 2020.
Ukraine: Dnipro has started taking delivery of 20 second-hand Tatra T4D-M1 trams from Leipzig.