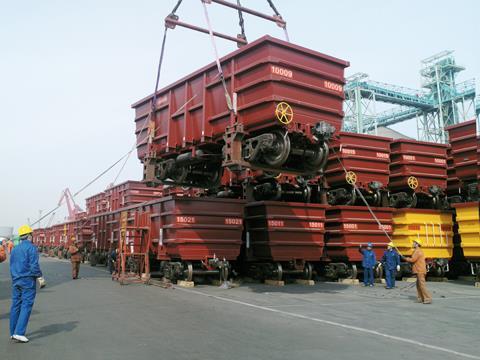 Canada: The province is providing C$17m for Ontario Northland to refurbish 16 cars used on Polar Bear Express services, fitting leather seats, accessible toilets, modern flooring and power sockets.
China: Jilin Midas Aluminium Industries has won a 152m yuan contract to supply CNR Changchun with high speed train body components.
Denmark: Arriva Tog has awarded DB Fahrzeuginstandhaltung a contract to overhaul engines from 14 Alstom Lint 41 DMUs.
Europe: Last month Bombardier and Rail Cargo Group undertook a 4000 km trial run using a Traxx AC Last Mile loco to haul a 534 m long 1200 tonne train from Sopron in Hungary, through Romania to Turkey and back. The last mile engine was used through a 20 km section where there had been a power supply failure.
Germany: ZTR Control Systems is to supply more than 300 SmartStart automatic engine stop-start systems for DB Schenker's Class 294 shunters.
Rolls-Royce is to supply Pesa with up to 940 MTU PowerPacks by 2021 for use on Link DMUs which DB could order under a 2012 framework agreement.
Liebherr is to supply an air cycle air-conditioning system for trials on a DB ICE3 trainset.
India: The AutoLinxSM car-carrying train, developed by APL Logistics and Vascor, has been launched at Melpakkam near Chennai, carrying 280 cars to Kahuwas near Delhi.
Kochi metro project manager Delhi Metro Rail Corp has awarded Alstom an €85m contract to supply 25 three-car Metropolis trainsets to Kochi Metro Rail Ltd, with an option to supply an additional 25 trainsets. The first are due to be delivered in early 2016 from Alstom's Sricity plant in Andhra Pradesh.
Iran: RAI has called tenders for the supply and maintenance of 70 diesel-hydraulic shunting locomotives.
Malawi: CEAR is taking delivery of six ex-South African GE U20C diesel locomotives which have been refurbished by Transnet Engineering.
Mexico: A CAF-led consortium including Isolux-Corsán, AZVI and Thales has been selected to supply 30 five-car EMUs and E&M systems for the future 58 km Mexico City – Toluca line. The €690m contract is expected to be signed this month.
Mozambique: Leasing company Thelo Rolling Stock has secured finance for the supply of 16 GE locomotives for Vale's Moatize coal operations.
Netherlands: At a cost of €6m, Stadler is to lengthen three GTW 2/6 EMUs to 2/8 formation by mid-2016 for use on Vechtdal services.
Romania: Bucureti metro operator Metrorex has exercised a €47m option for a further eight six-car CAF trainsets, with EIB funding.
Russia: Kambarka Engineering Works has supplied two couchette cars for the 750 mm gauge Alapayevsk railway, which operates a 250 km network north of Yekaterinburg.
The TramRus joint venture of Alstom and Transmashholding is to supply a further three 100% low-floor trams to St Petersburg by the end of the year (RG 11.14 p19).
Bryansk Engineering Plant has produced a prototype 19-3058 hopper wagon with capacity increased from 112 m3 to 118 m3. It is intended for low density products such as seeds, with the gross weight remaining the same.
Singapore: The first two Innovia APM 100 peoplemover vehicles ordered from Bombardier in 2012 entered service on the Bukit Panjang LRT line on November 19.
Swaziland: Thelo Rolling Stock has supplied Swaziland Railway with four NREC/Grindrod diesel locomotives and 75 iron ore wagons for use on the North-South corridor under a 10-year lease deal worth US$17·3m.
Switzerland: Bombardier and SBB have agreed a revised schedule for the first delivery of Twindexx Express long distance double-deck EMUs ordered in 2010. In compensation for a further one-year delay to 2017, Bombardier will supply three additional EMUs and spare parts free of charge, taking the total order to 62 units.
Turkmenistan: The LKZ plant in Kazakhstan has supplied a GE Evolution TE33A loco to Turkmenistan's national operator, which is planning an order for 18. Kazakh domestic content has now reached 34%, and the first TEP33A passenger version is on test.
Uruguay: Cementos Artigas has taken delivery of a further four Faccs wagons from Loko Trans.
UK: Govia Thameslink announced on November 18 that it had signed a £145·2m order for 27 four-car Bombardier Class 387/2 EMUs for use on Gatwick Express services from 2016. This is a follow-on to a July 2013 order for 116 Class 387/1 cars. The orders total £317m, financed by Porterbrook.
USA: Brookhaven Rail Terminal has taken delivery of a Railserve Leaf genset locomotive with two Cummins QSX15-L3-600 engines for shunting at Yaphank, New York.
An agreement for Trinity Industries to supply leasing company GATX with 8950 wagons over four years was announced on November 3, and will come into effect in 2016 when an existing five-year deal for 12500 wagons expires.
M-1 Rail Corp has selected Inekon Group to supply six 100% low-floor trams for the M-1 line in Detroit. The final contract value is expected to be around $30m.