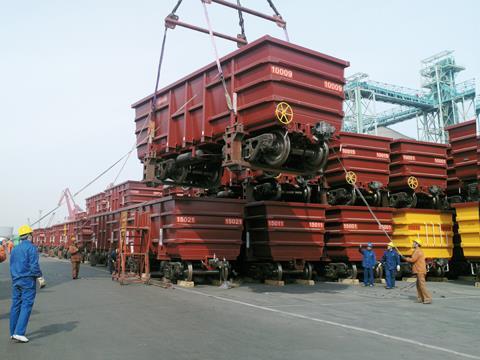 Argentina: Trenes Argentinos Cargas has taken delivery of 200 spine wagons to move containers on the San Martín network. Another 100 wagons have been supplied for the Urquiza network under the contract with China Machinery Engineering Corp (RG 9.16 p7).
The government has awarded military equipment manufacturer Fabricaciones Militares a 17m pesos contract to repair 20 covered wagons for the 1000 mm gauge Belgrano network.
Australia: The Evolution Rail consortium of Plenary, CRRC Changchun and Downer announced contractual close on the Victorian government's A$2bn High Capacity Metro Trains PPP on November 22, and financial close two days later. Evolution is to supply and maintain 65 EMUs for Melbourne from mid-2019 (RG 10.16 p13). Debt participants will include Westpac, Bank of China, Bank of Communications, HSBC, ICBC, Intesa Sanpaolo, Mizuho Bank and UOB, with equity financing from Plenary (30·1%), Downer (10%), CRRC (10%) and Partners Group (49·9%).
Austria: Wiener Lokalbahnen Cargo has awarded Bombardier a contract to supply and maintain three Traxx AC3 electric locos with last mile diesel modules, with an option for three more.
LogServ has taken delivery of a Zagro road-rail vehicle for shunting at Voest­alpine's Linz site. It can haul 25 wagons, has automatic engine start-stop and is fitted with remote controls for use by crane drivers.
Brazil: Vale has bought 23 locomotives and spare parts from MRS Logística for US$25·3m, for use on the S11D iron ore mining project in Maranhão state.
Czech Republic: Under a KC1·1bn contract, Pars nova Šumperk and ŽOS Trnava have modernised 62 Bp282 coaches as Bdpee231. This included fitting air-conditioning, vacuum toilets, cycle racks, 230 V sockets and audio-visual information systems.
France: STIF has approved the provision of €500m to fund the purchase by SNCF of a further 52 Bombardier Francilien EMUs for use on Paris lines J and L from March 2018. vAlstom has won a €52m contract to supply 23 Citadis X05 trams for the 16·8 km tramway being built in Caen.
STIF has awarded Alstom a €70m contract to supply 22 Citadis X05 trams for the future Paris Line T9, with options for up to 68 for T9 and T10.
Lyon's Sytral has awarded Alstom a €140m deal to supply 30 rubber-tyred metro trainsets with options for 18.
Teknoware is to supply LED interior lighting for the refurbishment of SNCF's TGV Duplex fleet.
Germany: The Hamburg Senate has given the go-ahead for DB subsidiary S-Bahn Hamburg to place a firm order for Bombardier to supply 12 additional Class 490 three-car EMUs which will enable six-car formations to be operated across the network. These are to be ordered as an option on a 2013 contract.
DB Regio has awarded Alstom a €130m contract to supply of 24 Coradia Continental three-car and four-car EMUs for use from December 2019 on Breisgau-Ost-West services around Freiburg.
India: Alstom has awarded ABB a contract to supply 1 600 traction transformers for the 800 twin-section Prima India electric locos it is to build for use on routes including the Eastern DFC.
Iran: CRRC Nanjing Puzhen is to supply 215 metro cars to Esfahan, Shiraz and Tabriz.
Kazakhstan: TMH's Bryansk Engineering Plant has delivered two TEM18DM shunting locomotives to Kazakh chemical company TK Zhetysu.
South Korea: Hyundai Rotem and the Korea Railroad Research Institute have signed an MoU to develop a 300 km/h double-deck trainset
Lithuania: LG is taking delivery of 56 Type 19-3018 cement wagons ordered from TMH's Bryansk plant.
New Zealand: On October 11 CRRC Qiqihar signed a contract to supply KiwiRail with 150 container wagons of a new lightweight design.
Poland: Podkarpackie voivodship has awarded Pesa a 124·66m złoty contract to supply five three-car and two four-car Elf 2 EMUs between June 30 2017 and March 31 2018. Newag is to supply two two-car DMUs in early 2018; its 32·97m złoty bid was higher than Pesa's 32·57m złoty offer, but included lower maintenance costs of 3·08 złoty/km compared to Pesa's 3·46 złoty/km.
PKP Cargo has called tenders for the lease or purchase of 180 hopper wagons; the leasing company can choose the manufacturer. In the meantime, plans for the joint construction of wagons with Greenbrier have been put on hold.
Industrial Division has acquired four Newag E6ACT Dragon locomotives from STK. The new owner intends to continue to lease them to other operators.
Pesa is to modernise 20 PKP IC Type 141A coaches under a 75·7m złoty contract with complete new interiors, and 10 Type 112A/140A first class compartment cars for 37·6m złoty.
Newag beat Pesa to win a 216·7m złoty contract to supply 11 five-car EMUs to Koleje Dolnolskie.
Russia: UWC's TikhvinChemMash has won a second contract to supply Type 15-6900 tank wagons to Ilim Group subsidiary Fintrans GL.
RM Rail has obtained certification for its Type 11-1291 covered automotive wagon, which has a removable centre deck.
Sole bidder UKVZ won a 48·9m rouble contract to supply three 71-623-02 partly low-floor trams to Khabarovsk.
Switzerland: SBB has exercised a SFr32m option for a consortium of Windhoff and Dräger to supply three more fire and rescue trainsets. These will replace old trainsets based at Zürich, Biel and Olten from the end of 2018.
Ukraine: Praha has donated two T3SUCS trams to Mariupol.
UK: Contracts worth £60m for Hitachi to supply and maintain five AT300 five-car electro-diesel multiple-units for use by Hull Trains from 2019 were finalised by FirstGroup and leasing company Angel Trains on November 2.
USA: An order for 60 more Kawasaki Rail Car M8 EMUs cars to increase capacity on Metro-North Railroad's New Haven Line was approved by the New York MTA board on November 16. There is an option for a further 34, and the base order is also expected to include the conversion of 10 existing cars into café cars. The new cars are being funded by the state of Connecticut (65%) and MTA's capital programme (35%).
Twin Cities' Metropolitan Council has selected Siemens to supply 27 LRVs to operate on the 23·3 km Southwest LRT line, with options for up to 50 more.
Uruguay: AFE has purchased seven ex-SJ Fiat Y1 diesel railcars from Swedish rolling stock company NetRail. One is to be used to provide spare parts, while the others are to be deployed to improve services from Montevideo to 25 de Agosto. AFE also plans to reinstate services to Victor Sudriers, and is studying the reinstatement of passenger services on the 84 km route to San Ramón (RG 11.16 p35).